New 'Daredevil' Season 2 Teaser Reveals A Premiere Date (That Won't Compete With 'Batman V Superman')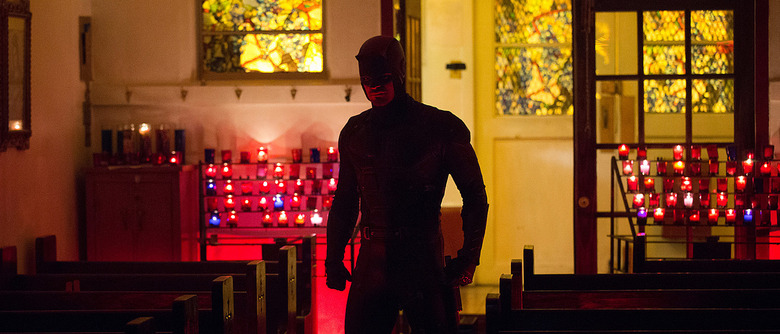 Between Love, The Crown, and The Get Down, 2016 is already shaping up to be a banner year for Netflix's original programming slate. But 2015 was a damn good year too, and some of last year's biggest hits will be back with new seasons in the coming months. Like Daredevil. The Hell's Kitchen hero will be back for more action this spring, and he's bringing along some new "friends" including Elektra (Élodie Yung) and the Punisher (Jon Bernthal).
Now a new Daredevil season 2 teaser trailer has arrived with a premiere date, so you can go ahead and block out that entire weekend for your binge-watch. Check it out after the jump. 
As a trailer, the new Daredevil season 2 teaser isn't all that interesting. There's no new footage to speak of, just some church- and Marvel-related graphics set to quotes from season 1. But it's really just buildup for the Daredevil season 2 premiere date announcement. Mark your calendars: Daredevil returns March 18 at 12:01 AM Pacific time.
You may have noticed that March 18 is not March 25, the rumored release date that made the rounds earlier this week. That date would have pitted Daredevil season 2 directly against the opening of Batman v Superman: Dawn of Justice, and for a moment it looked like Marvel and DC were gearing up for another skirmish in their ongoing rivalry. But you can relax: you won't have to choose between the knight of Gotham and the devil of Hell's Kitchen. You can gorge yourself on Daredevil one weekend, and follow it up with a Batman chaser the next weekend.
Between Elektra and the Punisher, Daredevil will definitely have his hands full next season. Elektra, it turns out, is an old flame — a bad ex and a bad influence. "She does everything wrong and attractive, she's his id, the wild side," says co-showrunner Doug Petrie. "Matt is always taming his wild side. Elektra just lets it out. He's both repulsed and deeply drawn to that." Punisher, meanwhile, is another Hell's Kitchen vigilante who's got the same goals as Daredevil (i.e., cleaning up Hell's Kitchen), but he's a "a merciless, binary-thinking antihero" who "uses guns instead of fisticuffs and simply murders every criminal he can find." Not exactly Daredevil's style.
Charlie Cox returns as Matt Murdock / Daredevil, along with Deborah Ann Woll as Karen Page, Elden Henson as Foggy Nelson, Rosario Dawson as Claire Temple, and Scott Glenn as Stick.