2016 WGA Awards Nominations: 'Spotlight', 'Straight Outta Compton', And 'The Big Short' Are Going Strong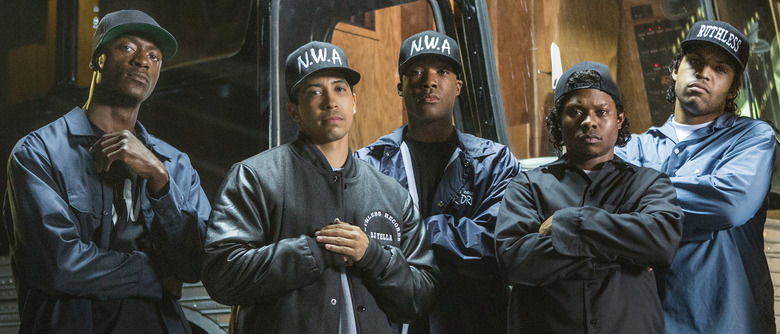 The long, exhausting journey through awards season continues today, as the Writers Guild of America announce their nominations for their 2016 honors. As it turns out, they like a lot of the same things the Producers Guild and the Screen Actors Guild do, namely Spotlight, The Big Short, and Straight Outta Compton. They are, however, the only one of the three guilds to put Trainwreck in the race. Read the list of 2016 WGA Awards nominations after the jump. 
This awards season started out with one of the most wide-open fields in recent memory. Presumed frontrunners like Joy fell flat, while others like The Revenant proved more divisive than expected. But a consensus is finally emerging. The three films named above – Spotlight, The Big Short, and Straight Outta Compton — are the only ones nominated for all three of the top guild prizes, although Compton struck out with the Golden Globes. Trainwreck feels like the only real surprise between the two narrative film categories.
The WGA's strict rules disqualify a lot of films that might otherwise get awards season attention. This year, The Hateful Eight, Inside Out, Brooklyn, The Danish Girl, and Mad Max: Fury Road were among the original and adapted screenplays deemed ineligible. These unique requirements mean the WGA Awards are a less reliable predictor of the Oscars than the PGA or SAG prizes are. Still, it's an important stop for titles hoping for awards-season glory. According to TheWrap, 22 of the 32 WGA's adapted and original screenplay winners since 2000 have gone on to win Oscars.
Original ScreenplayBridge of Spies, Written by Matt Charman and Ethan Coen & Joel Coen; DreamWorks PicturesSicario, Written by Taylor Sheridan; LionsgateSpotlight, Written by Josh Singer & Tom McCarthy; Open Road FilmsStraight Outta Compton, Screenplay by Jonathan Herman and Andrea Berloff; Story by S. Leigh Savidge & Alan Wenkus and Andrea Berloff; Universal PicturesTrainwreck, Written by Amy Schumer; Universal PicturesAdapted ScreenplayThe Big Short, Screenplay by Charles Randolph and Adam McKay; Based on the Book by Michael Lewis; Paramount PicturesCarol, Screenplay by Phyllis Nagy; Based on the Novel The Price of Salt by Patricia Highsmith; The Weinstein CompanyThe Martian, Screenplay by Drew Goddard; Based on the Novel by Andy Weir; Twentieth Century FoxSteve Jobs, Screenplay by Aaron Sorkin; Based on the Book by Walter Isaacson; Universal PicturesTrumbo, Written by John McNamara; Based on the Biography by Bruce Cook; Bleecker Street MediaDocumentary ScreenplayBeing Canadian, Written by Robert Cohen; Candy Factory FilmsGoing Clear: Scientology and the Prison of Belief, Written by Alex Gibney; HBO Documentary FilmsKurt Cobain: Montage of Heck, Written by Brett Morgen; HBO Documentary FilmsProphet's Prey, Written by Amy J. Berg; Showtime Documentary Films