'The Get Down' Trailer: Baz Lurhmann Takes A Trip Into The '70s For Netflix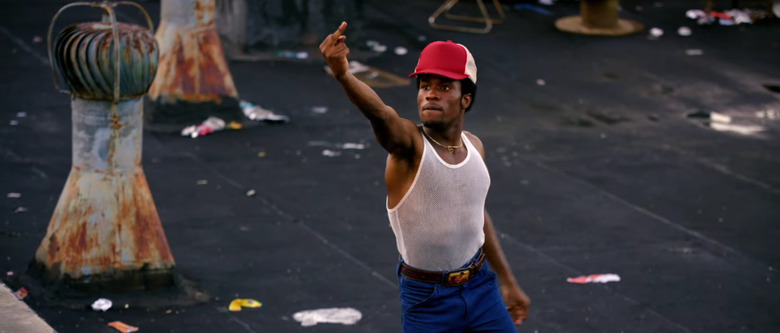 Rick Famuyiwa's Dope had a lot going for it, but one of the very best things it did was introduce the world to Shameik Moore. The relative unknown immediately won us over with his charming, moving performance, and had us eager to find out just what he was going to do next.
As of today, we have our answer. Moore is part of the sprawling ensemble cast of Baz Luhrmann's new Netflix drama The Get Down, about the rise of hip-hop, punk, and disco in 1970s New York. Which, yes, sounds a lot like a certain other drama premiering on HBO next month — but the perspective couldn't be more different, and in any case we live in an age where streaming and DVR allow us to watch as many '70s music dramas as the industry is willing to churn out. The Get Down looks like a must-watch no matter what other shows exist out there. Watch The Get Down trailer after the jump. 
The Get Down features some familiar faces like Giancarlo Esposito, Jimmy Smits, and Jaden Smith, but it also features a bunch of young and up-and-coming talents including Moore, Justice Smith, Herizen Guardiola, Skylan Brooks, Tremaine Browne Jr., and Yahya Abdul-Matten II. The first trailer sets up a sprawling universe filled with hardship and violence, but also love, joy, and ingenuity. The comparisons to Vinyl are inevitable (I just made one in the second paragraph), but they could wind up being great companion pieces. If Vinyl, which centers on a record exec, is a top-down view of the '70s music scene, The Get Down looks like the ground-up one.
And now for the bad news: The Get Down doesn't have a release date just yet. But you can bet we'll be hitting the "My List" button as soon as Netflix will allow. Here's the official synopsis:
The Get Down focuses on 1970s New York — broken down and beaten up, violent, cash strapped — dying. Consigned to rubble, a rag-tag crew of South Bronx teenagers are nothings and nobodies with no one to shelter them — except each other, armed only with verbal games, improvised dance steps, some magic markers and spray cans. From Bronx tenements, to the SoHo art scene; from CBGB to Studio 54 and even the glass towers of the just-built World Trade Center, The Get Down is a mythic saga of how New York at the brink of bankruptcy gave birth to hip-hop, punk and disco — as told through the lives and music of the South Bronx kids who changed the city and the world...forever.