'The Finest Hours' Set Visit: Disney Crafts A Good Old-Fashioned Tale Of Real-Life Heroism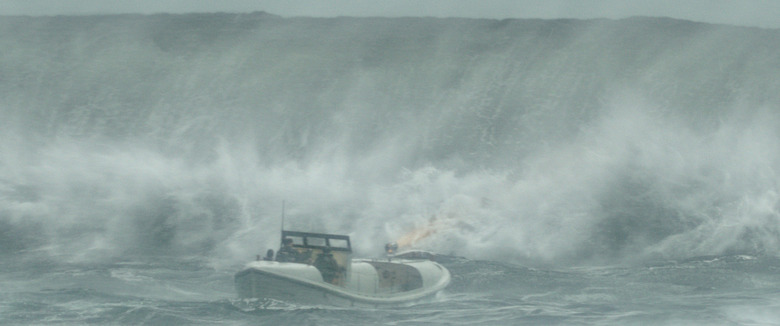 At a time when our big-screen heroes typically come packaged with extraordinary abilities or cutting-edge gadgets or mystical prophecies, Craig Gillespie's The Finest Hours looks like a throwback. It's a no-frills tale of heroism, made all the more remarkable by the fact that these incredible events actually too place. In 1952, a brutal nor'easter savaged New England, smashing apart an oil tanker called the SS Pendleton and leaving over 30 sailors stranded at sea. Back on the Massachusetts shore, the Coast Guard got word of the disaster, and a small team of men bravely risked their own lives to help. The incident is still considered one of the greatest rescues in Coast Guard history.
In November 2014, I had the opportunity to visit the set of The Finest Hours along with a few other journalists. We spoke with a few of the talents involved, including director Gillespie, stars Chris Pine, Ben Foster, Kyle Gallner, and John Magaro, and producers Jim Whitaker and Dorothy Aufiero. After the jump, find out what we learned on the set of The Finest Hours.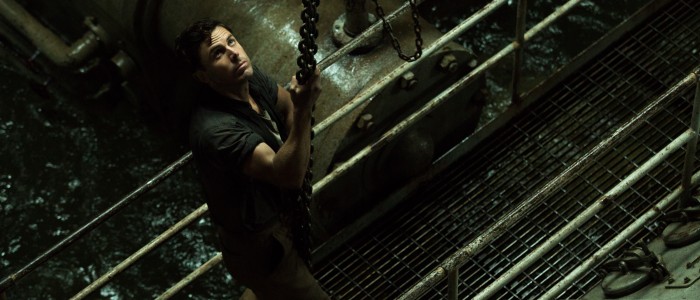 Building an Authentic Universe
We arrived at the Massachusetts warehouse set of The Finest Hours on the 49th (out of 69) days of shooting. Inside was a massive water tank. Brutal waves crashed into a 36-foot lifeboat for a scene in which the Coast Guard heroes try to go over the Chatham sandbar. The boat was a replica of the CG-36500, which the real Bernie Webber (played by Pine in the film) and his team took out to save the survivors of the SS Pendleton.
"Authenticity has been a watchword for us for the movie, in terms of a guide for us," said Whitaker. To that end, the crew borrowed parts from real ships like the USS Salem, gutted an authentic (and difficult to find) T2 tanker, and filled the sets with genuine parts. "So when you walk around the sets, you'll see little name plates, or things that say Navy X150321," he told us. "It's authentically from it."
That attention to detail was apparent when we walked around the SS Pendleton engine room set. On one wall was a giant rupture with wooden bits and mattresses haphazardly nailed over it; the ship, at that point, had started to crack but hadn't broken into two just yet. While I can't speak for the authenticity of the props, I can say the details made it easy to imagine the sheer horror of what was happening. In real life, as in the movie, none of the men in the bow of the ship survived.
The sets were apparently good enough to impress Andy Fitzgerald, one of the real-life members of that Coast Guard rescue team. (He's played by Gallner in the movie.) "He came to the set and was completely amazed by it. I had showed him the tank where we have a portion of the Pendleton hull and we were rescuing some of the sailors off of it," said Aufiero. "Andy saw that and I said "Andy, is this what it looked like when you were..." He said, "That's exactly what it looked like." So, that was pretty cool."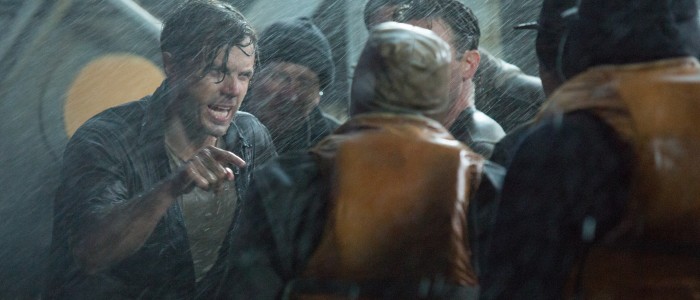 How to Play a Real-Life Hero
The actors, meanwhile, prepared by undergoing some Coast Guard training and heading down to Chatham, Massachusetts, the historical site of the rescue, to meet with actual "Coasties." Foster described the visit as "a real treat." "Spending time with people who serve their fellow man, it's always going to be a privilege to spend time with them," he said.
But that was the fun stuff. On the day of our visit, we watched Pine, Foster, and Magaro get pummeled with water with each take. (Gallner got to sit those out, because his character was in the engine room and therefore not visible above deck at that point.) "I'd rather fall down a mountain any day of the week rather than get hit under these waves and rain machines," admitted Foster. But all of the actors were quick to acknowledge that their on-set difficulties were nothing compared to the suffering endured by the true Coast Guardsmen.
"There was a particularly cold morning the other day and [it was] definitely the time where I could feel myself just about breaking," Pine recalled, "and then you see Andy Fitzgerald who was actually out there on the boat and you shut up real fast, as we're in dry suits and I have a heating shirt and the whole bit." Plus, Gallner pointed out, there was a silver lining to these challenging conditions. "It kind of takes part of the acting out of it, because you can't fake it," he said. "I mean, you're cold, you're wet, and you're kind of miserable."
Besides their respect for their real-life counterparts and their commitment to their craft, the actors also had a secret weapon in Foster's Bluetooth Jambox speaker. To keep their spirits up, the cast would blast music between takes. And not just thematically appropriate music, either. "Every day it's different. We have Funky Friday. We had a little Sinatra a couple of weeks ago. We had some modern stuff yesterday," said Magaro. Added Pine, "We have a whole funk thing happening, which couldn't be more in contrast to what we're doing."
An Idiosyncratic Cast of Characters
While The Finest Hours is first and foremost a rescue story, what brings it to life are the "idiosyncratic characters" within it. "Bernie's a really unusual underdog," said Gillespie. "He's one of those antiheroes, the reluctant guy, the last person you expect to be that fellow. And the same is going on with [Ray] Sybert, Casey Affleck's role, as well. That character hates authority, doesn't want to be the guy in charge and then ends up being that guy ironically."
Gallner described Fitzgerald "kind of a third-string type of guy where nobody really asked him to go out." Instead, he explained, Fitzgerald was just "really bored" and practically had to force Bernie to take him along. Which the real-life Fitzgerald doesn't seem to regret, despite the dangers he faced that day. "He to this day still says, 'If I was 20, and they asked me again, I would go,'" said Gillespie.
Although both the Coast Guard rescue team and the SS Pendleton crew were all male, The Finest Hours also features a "very strong female presence" in the form of Miriam (Holliday Grainger), Bernie's wife. "She has to discover on land, what it would be like to be married to a guy who spends his life on the sea, putting his life at risk," said Whitaker. "It's a movie about a rescue, but it's also a movie about a marriage."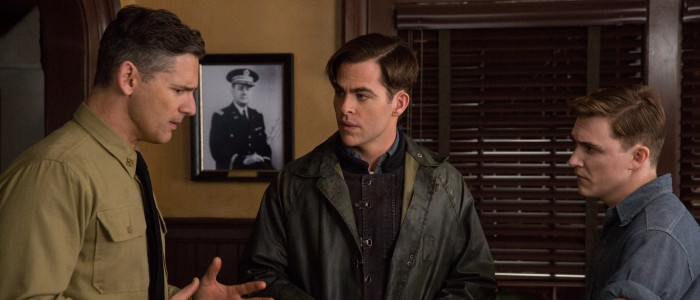 Why Haven't We Heard This Story Before?
As different as the various characters are, one observation that kept cropping up was how humble their real-life inspirations were. "There's a great recording of Bernie talking to an interview years and years ago about the rescue and I guess, above and beyond the heroism of it, you can kind of get the sense that he's sick of retelling the story, you know?" Pine told us. "That, for him, this was his job, this was what he was supposed to do and just like anyone clocking in for a job, his task was going out and saving people, and a real sense that there was no glory in it for him or any need for self-aggrandizement."
Gallner concurred. "You kind of think like, well, how do you play a hero? And you meet this guy, and it's like, they just did their job," he said. "You know, the old Coast Guard saying was, 'you have to go out but you don't have to come back.' And that's really what they lived by."
The cast considered the Coast Guardsmen's humility a product, in part, of the times the men were living in. "I don't think those guys who came of age in the '40s and '50s — often called the Greatest Generation — they didn't speak of their actions, and they did some amazing things," said Magaro. "They really put themselves out there, taking some crazy risks, and then would just go home and live a modest life — not write a book about it." Foster put it more colorfully: "They're not living in a time where they're tweeting their last adventure and taking selfies of each other on a fucking boat."
And then there's the fact that, the CG-36500 team saw their epically heroic rescue a little bit differently from the rest of the world. Aufiero explained:
They never considered it a successful mission because they couldn't save Tiny. They didn't see it that they'd rescued thirty-two it was that they failed one. Even to this day, Andy Fitzgerald wells up over that. He said that he saw Tiny and they were trying to bring him in the boat and that he turned for a second and turned back and he was gone. I think part of it was, as Andy says, that they were doing their job. That was their job. Even family members knew nothing about it until the book [by Casey Sherman and Michael J. Tougias] came out, until the sixtieth anniversary of the Pendleton rescue. So it's pretty amazing.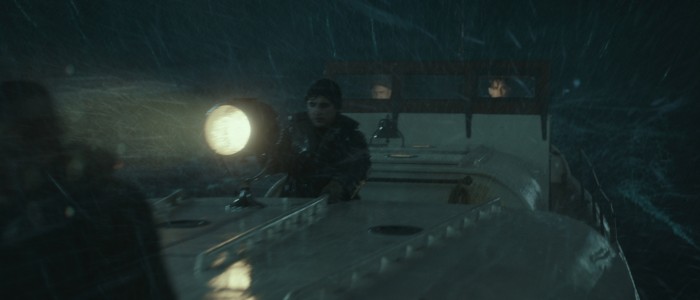 Old-Fashioned Sentiments and Old-Fashioned Values
That simplicity makes Bernie and his men feel out of place in this day and age, which the Finest Hours cast and crew see as kind of the point. "This is like the bizarre, anachronistic film that shouldn't exist now with all the Marvel characters and everything. This is almost like a studio film from the '50s, you know?" opined Pine. "There's no cursing and people are good and right and love conquers all. It's really very sweet. There's a sweet earnestness to this film that people will either engage with or the cynicism of the world will win out, but I hope that people appreciate that."
Foster praised Disney for rising to the challenge. "I can't believe I hadn't heard of this story. Which I guess is the exciting part about being a part of it is this story should be known. These guys should be celebrated," he said. "How great that Disney got behind it to celebrate these guys. It's nice to be a part of it."
And while The Finest Hours' mission may not be quite as daring and dangerous as the one depicted in the movie, the cast and crew are clearly hoping it'll make the world, in some tiny way, a better place. "I tend to think of it as a very hopeful story. It's about humanity, and hope, and I love those themes and ideas," Whitaker told us. "I just felt, if you can ever tell a story and go out into the world and give hope, that's a great thing."
***
The Finest Hours lands in theaters January 29, a few weeks before the 64th anniversary of the Pendleton rescue.