Alex Garland's 'Annihilation' Eyes 'Creed' Star Tessa Thompson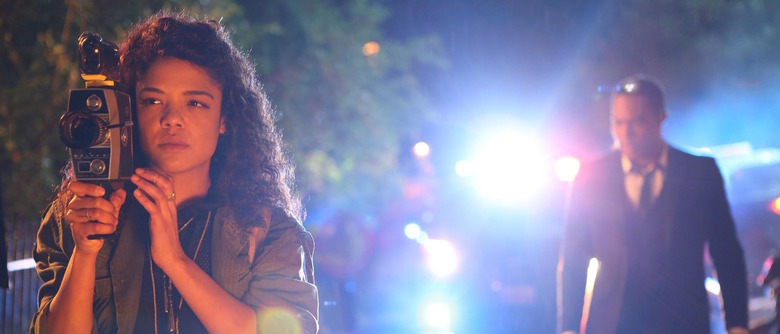 Alex Garland's next feature film is shaping up to have a cast as good as his last one did — and that's really saying something, considering Ex Machina starred Oscar Isaac, Domhnall Gleeson, and Alicia Vikander. His new project Annihilation already has Natalie Portman and Gina Rodriguez in place, and now it's looking to bring Creed breakout Tessa Thompson into the fold as well.
More details on the Tessa Thompson Annihilation casting after the jump. 
TheWrap reports Thompson is in early talks for Annihilation, which shoots this spring. Based on the novel by Jeff VanderMeer, the sci-fi pic "follows a group of women who take on a dangerous mission where the laws of nature don't apply." Portman plays the narrator, a biologist. Other characters include an anthropologist, a surveyor, and a psychologist.
Thompson's been kicking around Hollywood for about a decade now, working steadily on shows like Veronica Mars, Hidden Palms, 666 Park Avenue, and Copper, and films like When a Stranger Calls and For Colored Girls. But her career's really started to take off in the past couple of years. She made a splash in 2014's Dear White People, appeared in the star-studded Selma that same year, and then had her biggest mainstream hit yet last year with Creed.
And you can expect she'll continue to blow up. Thompson will next be seen in HBO's Westworld, and she also has a role in War on Everyone, the upcoming comedy from The Guard and Calvary director John Michael McDonagh. Not to mention we can probably expect her back for any Creed sequels that may or may not be planned for the future.
Garland seems to have a knack for scooping up talents on the cusp of superstardom. He recruited Isaac and Gleeson for Ex Machina before Star Wars turned them into household names, and Vikander just as she was breaking through in the U.S. Annihilation's Portman is a more established star, but Jane the Virgin's Rodriguez is still rising – she was recently the subject of Star Wars rumors, which is basically a rite of passage for actors on their way up.
On the flip side, it's no wonder so many promising talents are eager to work with Garland. Ex Machina, besides being an elegantly shot, intelligently plotted thriller, was a great showcase for its three leads. And Garland certainly knows what he's doing with sci-fi — he's scripted some of our favorite genre titles of the past few years, including 28 Days Later, Sunshine, Never Let Me Go, and Dredd.
Scott Rudin is producing Annihilation, which is set up at Paramount. No release date has been announced.