'Independence Day: Resurgence': Will Smith Is Also Sad About Steven Hiller's Fate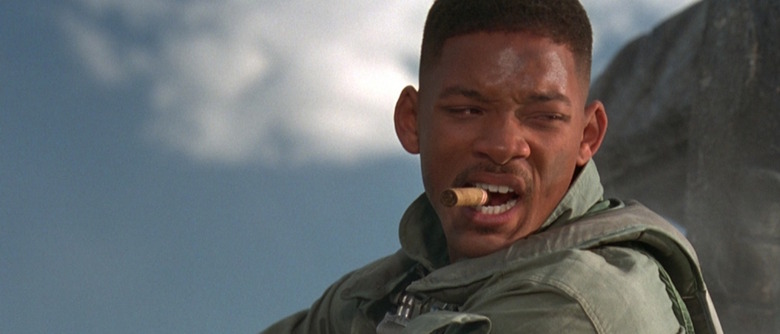 Were you bummed to hear about what happened to Steven Hiller between Independence Day and Independence Day: Resurgence? So was Will Smith. In an interview, the original Independence Day star admits it was "terrible" to learn of his character's fate — though also like you, he managed to enjoy the trailer anyway. Read the Will Smith Independence Day: Resurgence comments after the jump. 
The real-world explanation for Hiller's absence from Independence Day: Resurgence is that Smith simply didn't want to do it. But he's a major enough character that the films can't just ignore his disappearance, so last month, we learned the in-universe explanation. According to the Independence Day: Resurgence viral website (spoilers ahead, if you consider details released half a year before a film's release on an official viral website to be "spoilers"), Colonel Steven Hiller was killed while testing the world's first alien hybrid fighter jet.
Chatting with Yahoo! to promote his new movie Concussion, Smith commented briefly on his decision not to return as Hiller. "I was working on Suicide Squad during that time," he said of the Independence Day: Resurgence Shoot. "[Independence Day director] Roland [Emmerich] and I had talked about it." Smith continued: "The trailer looks really cool. I'm going to be sitting around with tears in my eyes when that one comes out... It was terrible when I found out my character died."
Smith went back and forth for years on Independence Day: Resurgence before ultimately deciding to pass. Last year, Emmerich explained Smith's choice. "Well, you know, like near the very beginning, I wanted to work with him and he was very excited to be in it," he said, "but then after a while, you know, he just was tired of sequels and he did another science-fiction film [After Earth], which was his father-son story, so he opted out."
It wasn't too shocking, then, to hear that Hiller was sitting out Independence Day: Resurgence. But it came as a slight surprise to learn he'd been killed off completely. In retrospect, though, it's probably smart. As long as Hiller is alive, fans will be clamoring for Smith to return – if not in this movie, maybe in the next one. Killing him preempts those conversations. And if Smith eventually changes his mind? We're talking about a movie universe in which aliens exist. It shouldn't be too hard for the writers to come up with a retcon.
Independence Day: Resurgence arrives in theaters June 24, 2016.