Quentin Tarantino Is Getting Sued Over 'Django Unchained'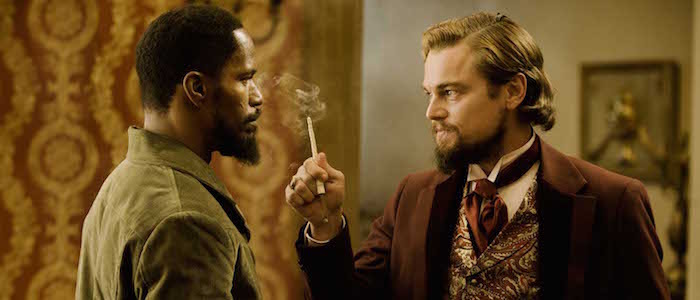 Now that the police unions have abandoned their bizarre, supervillain-esque plot to take down Quentin Tarantino, it's someone else's turn to put a metaphorical target on his back. Just his new film The Hateful Eight rolls into theaters, Tarantino is getting sued over his last movie, Django Unchained, by two screenwriters who claim he ripped off their own original screenplay. More about the Django Unchained lawsuit after the jump. 
Oscar Colvin Jr. and Torrance J. Colvin, who are a father-and-son team, filed their lawsuit in federal court in Washington, D.C. on December 24 — one day before Tarantino's The Hateful Eight began its limited release. The suit accuses Tarantino, The Weinstein Company, and Columbia Pictures, of copyright infringement, citing "a plethora of similarities" between Django Unchained and the Colvins' script Freedom. According to the Colvins, they registered Freedom with the Writers Guild of America in 2004, took it around to various Hollywood agencies, and posted it online, meaning Tarantino could theoretically have come across it a number of ways.
"Before Django Freeman, there was an escaped slave named Jackson Freeman who desired to purchase his family's freedom from a malevolent plantation owner," reads the suit. "Before Dr. Schultz, there was Samson, another white man, who would assist Mr. Freeman in his efforts to rescue loved one(s) from slavery." To clarify: "Returning to the hellish realm of the South to purchase the freedom of his loved one(s) with the assistance of a Caucasian in the South is the uniquely original beat that links Django Unchained to Freedom." The suit paints Tarantino as an "admitted thief," referencing his oft-repeated quote "I steal from every single movie ever made."
Frankly, the Colvins' case sounds iffy from here. The concept doesn't seem so wildly original that it's inconceivable Tarantino and the Colvins could have come up with it separately. But we're not legal experts, we haven't read the full lawsuit, and only Tarantino knows for sure where he really got all of his ideas for Django Unchained. Even if the Colvins don't get the "hundreds of millions of dollars" they're asking for, though, they could still benefit if the defendants choose to settle rather than deal with the headache of a drawn-out court battle.