Watch Michael Mann And Alejandro González Iñarritu Discuss 'The Revenant'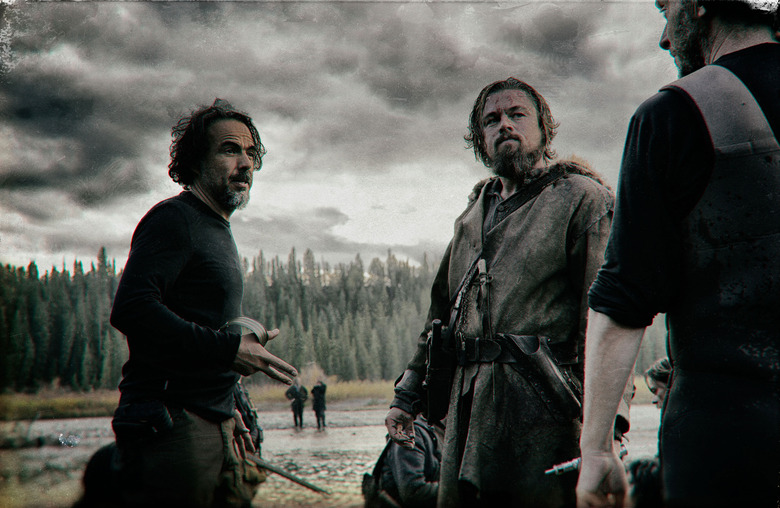 Who better to host a Q & A for The Revenant than director Michael Mann? The filmmaker behind The Insider and Heat almost always relies more on action and images than exposition to tell his stories, and director Alejandro González Iñárritu did the same with his somber, internalized epic.
After the jump, watch Mann and Alejandro González Iñárritu discuss The Revenant after the jump.
Have you heard about how difficult the shoot was for Iñárritu's newest film yet? That's pretty much what's been driving the conversation for The Revenant, and while that's understandable, it's also a shame because there's more to discuss about the drama than its harsh shooting conditions. In this Q & A, which was conducted at the DGA last month (via The Film Stage), Mann and Iñárritu dig deeper than that.
Here's 36 minutes of the two directors discussing The Revenant:
Who couldn't watch these two directors discuss movies all day? Generally in a Q & A it's better to just get to the question, but seeing Mann share his thoughts and enthusiasm regarding the film is a joy to watch. His insight on how the environment actually informs the story is spot-on, touching on the "broken" quality of the beautiful landscapes.
As vast as the environments are, Iñárritu wanted to make a personal epic:
[Cinematographer Emmanuel Lubezki], who's a master and a brother, would spend months trying to define those shots, by trying to have the impact, the brutal, and the big landscapes, and show those David Lean kind of things, but at the same time — whack — go to a macro of the emotional impact of the scene. It was almost a virtual reality we were creating, in order for audiences to get into that, with the feeling we were like a little mosquito flying in that reality.
Here's the official plot synopsis:
Inspired by true events, THE REVENANT is an immersive and visceral cinematic experience capturing one man's epic adventure of survival and the extraordinary power of the human spirit. In an expedition of the uncharted American wilderness, legendary explorer Hugh Glass (Leonardo DiCaprio) is brutally attacked by a bear and left for dead by members of his own hunting team. In a quest to survive, Glass endures unimaginable grief as well as the betrayal of his confidant John Fitzgerald (Tom Hardy). Guided by sheer will and the love of his family, Glass must navigate a vicious winter in a relentless pursuit to live and find redemption. THE REVENANT is directed and co-written by renowned filmmaker, Academy Award® winner Alejandro G. Iñárritu (Birdman, Babel).
The Revenant is now in limited release.