'Black Panther' Will Be A "Big Geopolitical Action-Adventure" With Ties To 'Avengers: Infinity War'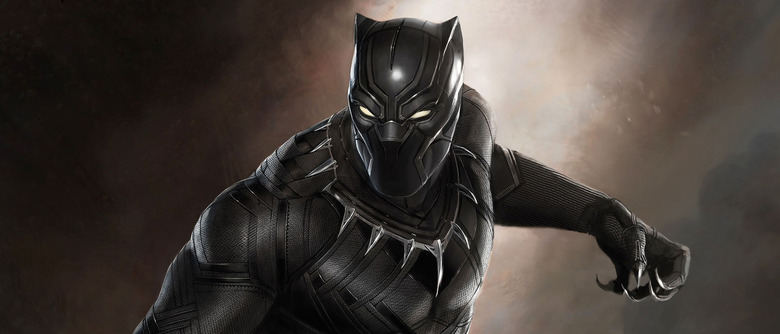 Next year's Captain America: Civil War finally brings Black Panther into the Marvel Cinematic Universe, and by the looks of it he's going to be a force to be reckoned with. That's him getting a sunlit hero shot, kicking the crap out of Cap's beloved Bucky, and outrunning Cap himself — this guy is no slouch. But he's not getting his own movie until 2018, which means we've got many, many months of speculation ahead of us.
For starters, we're dying to know exactly what this movie is. What genre is it? What's it about? Who's in it? Marvel being Marvel, they're not giving away too many plot details this early in the game. But studio head Kevin Feige's latest comments do give us a better sense of the film's overall feel, and teases its connection to Avengers: Infinity War. 
Feige dished on Black Panther in a chat with Empire (via CBM). "This one is important," he said. "Not only do you get an unbelievable lead character, but you also get all of Wakanda which is a whole new setting and culture to explore." Among other things, Black Panther looks to be the first Marvel Cinematic Universe movie with a "primarily African-American cast" — led, of course, by Chadwick Boseman as T'Challa.
And in the same way that Ant-Man was a heist film, or Captain America: The Winter Soldier was a political thriller, Black Panther will have its own distinct feel. "It's a big geopolitical action adventure that focuses on the family and royal struggle of T'Challa in Wakanda, and what it means to be a king," Feige explained. Executive producer Nate Moore has teased a younger, "more fiery" version of the character in Civil War, as compared to the comics, but we'll have to wait and see if and how he'll have evolved by the time we get to Black Panther.
Besides his position as the first non-white superhero to lead his own Marvel movie — and the opportunity he presents to open up a whole new corner of the Marvel Cinematic Universe — Black Panther also plays a key role in the franchise's overarching storyline. "T'Challa's story is very important to us as it links to the next Avengers films, which is why we brought it forward," Feige teased. Indeed, Black Panther will be the last MCU movie released before Avengers: Infinity War, so any final setup may take place here. Keep your eyes peeled for anything that looks like it might be the Soul Stone, in other words.
Black Panther arrives in theaters February 16, 2018. Creed director Ryan Coogler is reportedly in talks to direct, though Marvel hasn't confirmed anything yet. Andy Serkis is expected to co-star as villain Ulysses Klaue.