'Only Yesterday' Trailer: 'Star Wars' Stars Help Bring Studio Ghibli's "Lost Masterpiece" To The U.S.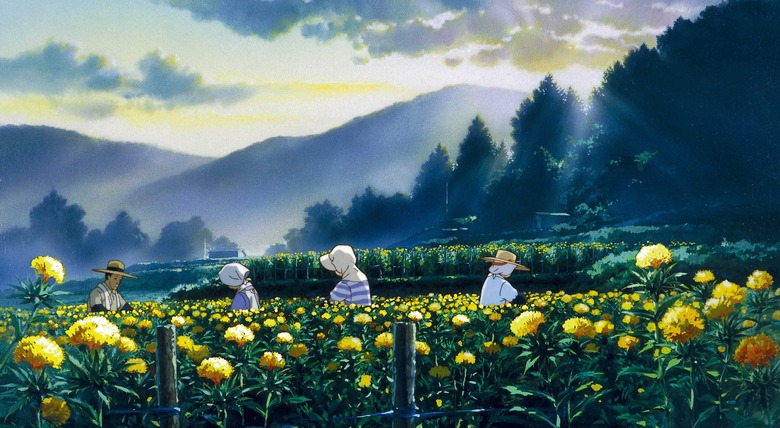 When Daisy Ridley was first announced for the cast of Star Wars: The Force Awakens, we weren't quite sure what to make of her, for the very good reason that we, like most people, had no idea who she was. But now that the movie's finally opened, Ridley's dazzled us all with her charm and talent, and we're dying to see what she'll do next.
Fortunately, we won't have to wait too long. Ridley already has her first big voice role lined up in Only Yesterday, a 25-year-old Studio Ghibli feature that'll be released in North America for the first time next year. Also lending their voices to the English-language dub are Dev Patel, Alison Fernandez, and Ashley Eckstein (Ahsoka Tano on Star Wars Rebels). Watch the Only Yesterday trailer after the jump. 
Only Yesterday is directed by Isao Takahata, the Studio Ghibli co-founder who also helmed Grave of the Fireflies and the Oscar-nominated The Tale of Princess Kaguya. It is the only Studio Ghibli film never to have been released in theaters or on home video in North America (although as Peter has previously pointed out, a subtitled version of the film aired on Turner Classic Movies in January 2006). So it's pretty exciting to hear we'll finally get our chance to see it next year — and with a really solid voice cast, too. For Ridley, meanwhile, it sounds like an opportunity to prove she can do an American accent — a very useful skill for British actors eager to cross over.
Only Yesterday will open January 1 at the IFC Center in New York, and expand to more cities starting February 26.
It's 1982, and Taeko is 27 years old, unmarried, and has lived her whole life in Tokyo. While traveling by train to visit family in the country, memories flood back of her as a schoolgirl in 1966, and she starts to question whether she has been true to herself. Elegantly switching between her adult present and childhood flashbacks, Isao Takahata brilliantly explores the drama, humor and enchantment of everyday life, in a poignant and achingly beautiful masterpiece from one of the world's most revered animation studios. Considered a lost gem, the remarkable Only Yesterday was recently included in Time Out's list of the "Best 100 Animated Movies Ever Made," and counts Wes Anderson and Roger Ebert among its admirers.
The new Studio Ghibli produced English voice cast includes Daisy Ridley (Star Wars: The Force Awakens) and Dev Patel (Slumdog Millionaire, Best Exotic Marigold Hotel). The film is directed by Isao Takahata and produced by Toshio Suzuki. The English version is produced by Geoffrey Wexler and Studio Ghibli.