The Coen Brothers' 'Hail, Caesar!' Drops A New Poster And A New TV Spot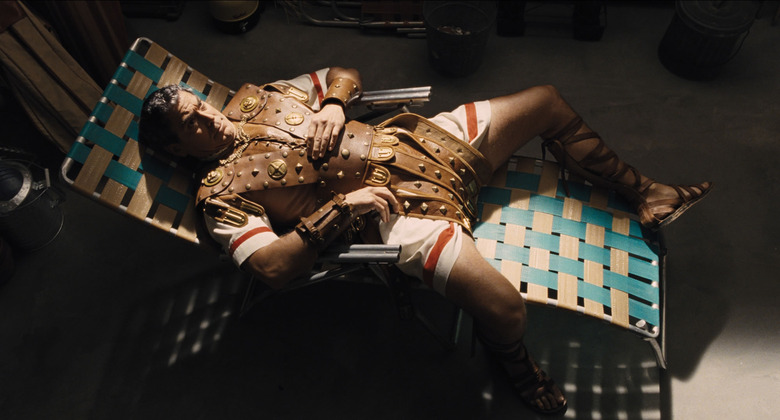 2015 officially ends in a couple of days, but it's hard to mind too much when 2016 looks so promising. For starters, next year brings Hail, Caesar!, the Coen Brothers' first film since 2013's superb Inside Llewyn Davis. The directors' names alone were enough to put this one on our radar, but the first trailer catapulted it right to the top of our most-anticipated lists.
Set during the Golden Age of Hollywood, the star-studded comedy follows studio fixer Eddie Mannix (Josh Brolin) over the course of one very busy day. When movie star Baird Whitlock (George Clooney) is kidnapped by a mysterious organization calling itself The Future, it falls on Eddie to rescue him. The first Hail, Caesar! poster and a new Hail, Caesar! TV spot have just been released, and you can see them both after the jump. 
First up, here's the Hail Caesar TV spot.
Uncovering Hollywood's biggest secret will take Hollywood's biggest actors. #HailCaesar hits theaters February 5.https://t.co/e2Ula63bQY

— Hail, Caesar! (@HailCaesarMovie) December 29, 2015
And here's the new Hail, Caesar! poster, which is striking and simple and definitely looks like something the Coen Brothers would direct.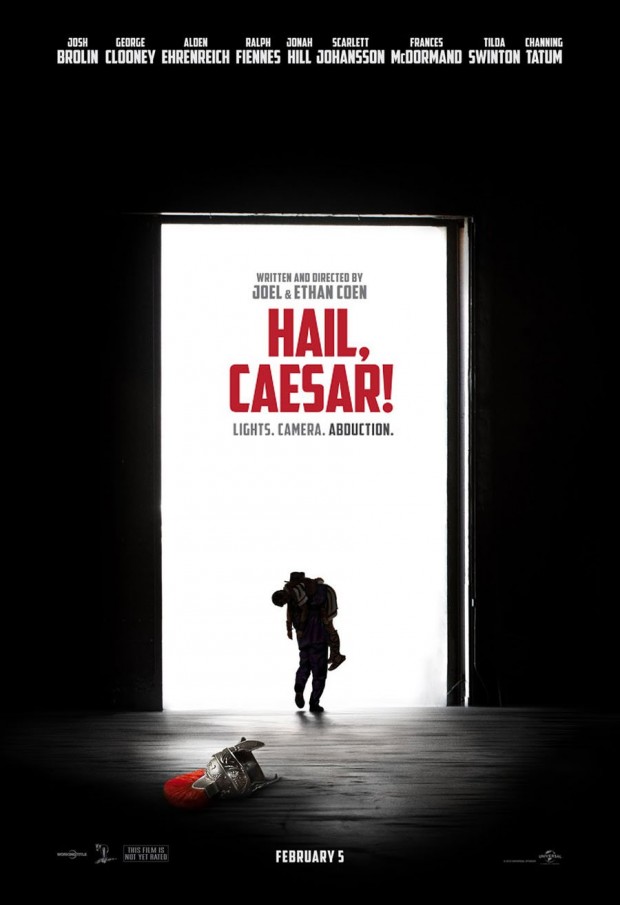 Mannix will be variously helped and hindered in his endeavors by a colorful cast of Hollywood players, including gossip columnist Hedda Hopper (Tilda Swinton), several movie stars (played by Scarlett Johansson, Channing Tatum, and Alden Ehrenreich), a film director (Ralph Fiennes), a film editor (Frances McDormand), and an accountant (Jonah Hill).
Although the trailers suggest a madcap comedy, composer Carter Burwell has insisted it's not all fun and games. "I wouldn't actually call it a 'musical comedy' — there are movies within the movie, and those movies might have comedic music, but the movie we're making is actually not comical," he said earlier this year. "I haven't written the music yet, but I'm quite certain it's actually going to be quite the opposite. It's going to be rather serious, and it's about faith." In other words, it sounds like Hail, Caesar! hits that Coen Brothers sweet spot between tragic and hilarious.
Hail, Caesar! lands in theaters February 5. Revisit the trailer below... and when you get tired of doing that, might I suggest you take some time to listen to the dramatic tale of the real Eddie Mannix?
Four-time Oscar®-winning filmmakers Joel and Ethan Coen (No Country for Old Men, True Grit, Fargo) write and direct HAIL, CAESAR!, an all-star comedy set during the latter years of Hollywood's Golden Age. Starring Josh Brolin, George Clooney, Ralph Fiennes, Tilda Swinton, Channing Tatum, Scarlett Johansson, Jonah Hill and Frances McDormand, Hail, Caesar! follows a single day in the life of a studio fixer who is presented with plenty of problems to fix.