Get Up Close With The Latest 'Doctor Strange' Images, Now In High Res [UPDATED]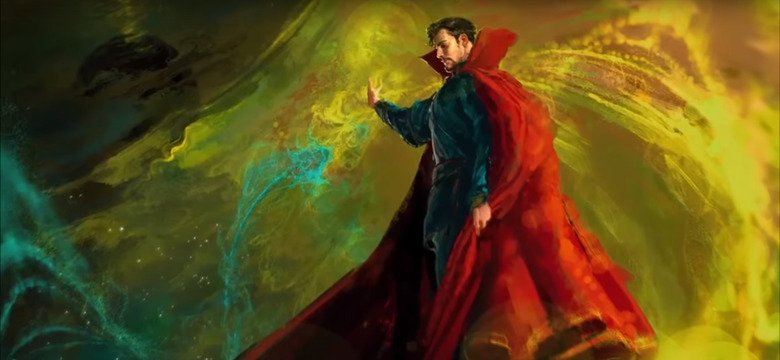 It's not especially difficult to picture Benedict Cumberbatch as Doctor Strange. He was a top fan-cast pick long before he was officially announced, and there are countless pieces of fan art floating out there in the ether already. But as of today, we no longer have to rely on the power of our imaginations. The first official image of Cumberbatch as the magical Marvel superhero has just been released, and you can check it out after the jump.
UPDATE (12/28/15): More images from Doctor Strange have just been revealed, and you can peruse them all after the jump. Plus, new info on Mads Mikkelsen's character.UPDATE (1/7/16): High-res, watermark-free versions of the Doctor Strange stills have been revealed, and you can see them below.Entertainment Weekly debuted the Doctor Strange first look on the cover of its latest issue.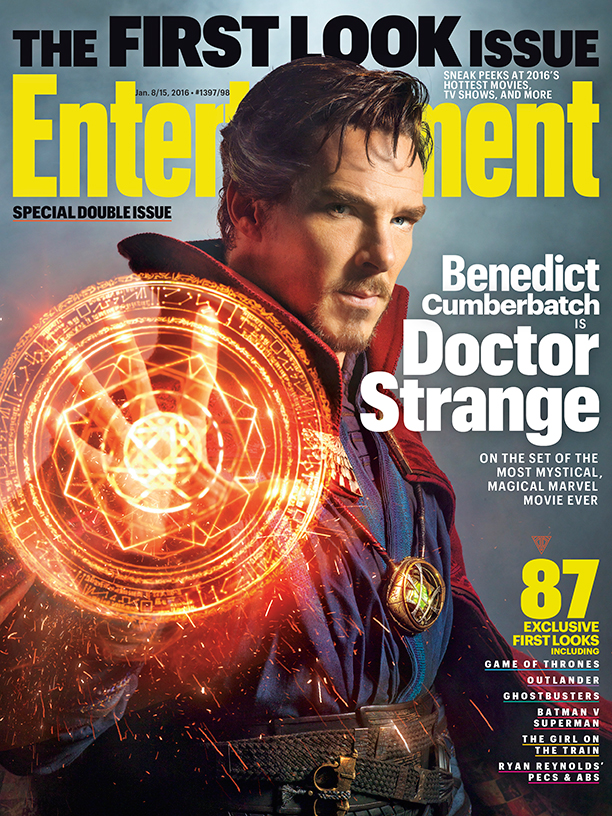 UPDATE: And here are some more looks at Doctor Strange, also thanks to Entertainment Weekly, in high-res via Stitch Kingdom. This batch includes a couple more photos of Cumberbatch as Strange, plus a few pieces of concept art showing off the look of the film. There's also this intriguing quote from producer Kevin Feige about the style of the film:
When this comic appeared in the early '60s, it really informed, in a way that is pretty amazing, a lot of the psychedelic '60s as we know it. I don't know that they were doing anything weird in the bullpen in Marvel, but certainly the stuff they were doing inspired all those people who were doing mind-expansion experiments at the time. So, that's inherent to the property. And that's our mission statement for the visual effects on this movie.
Doctor Strange began shooting in November and won't be out until next November, so it's a bit early to peek at the Sorcerer Supreme. In fact, according to Entertainment Weekly, the cover shoot was one of Cumberbatch's first times putting on that iconic blue-and-red costume. And as confident as he looks here, Cumberbatch admitted to the magazine that he was still getting his moves down:
I'm still in the infancy of learning all that. It was like, okay, I've got to keep throwing these poses, these spells, these rune-casting things, everything he does physically. I'm thinking, there's going to be a huge amount of speculation and intrigue over the positioning of that finger as opposed to it being there, or there. And I'm still working on that. We haven't played any of those scenes yet. I felt really self-conscious. But, then, by the end, it was great. It's like anything, you just have to experiment.
The Marvel adventure follows Stephen Strange, a hotshot neurosurgeon whose career is derailed after a horrific car accident. In a desperate attempt to get his life back on track, he stumbles into the discovery of magic. Tilda Swinton plays the Ancient One, who serves as a mentor to Strange, and Chiwetel Ejiofor plays Baron Mordo, Strange's rival. Rachel McAdams and Michael Stuhlbarg also star.
UPDATE: Entertainment Weekly additionally confirms Mads Mikkelsen is playing the as-yet-unnamed villain, described as "a sorcerer who breaks off into his own sect." Feige explained: "[He] believes that the Ancient One is just protecting her own power base and that the world may be better off if we were to allow some of these other things through."
Shooting on Doctor Strange is currently underway with director Scott Derrickson. The film arrives in theaters November 4, 2016.