Tupac Shakur Biopic 'All Eyez On Me' Finds Its Tupac Shakur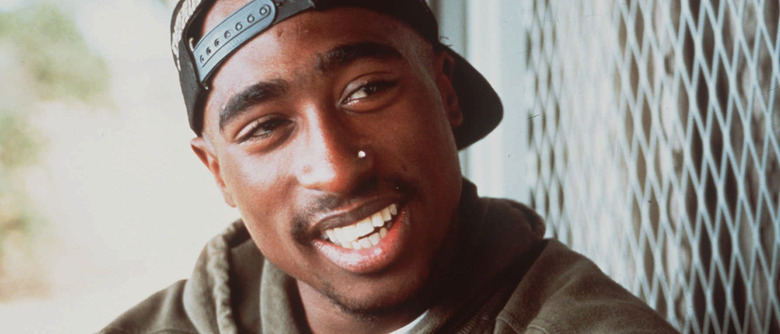 Morgan Creek has spent the past several years developing a Tupac Shakur biopic, without a lot to show for it. But nothing sparks creative progress like a looming deadline, and so with the clock running out on the music rights, the project is finally making some big strides.
Earlier this month All Eyez on Me found a new director in Benny Boom, and now it's found a new lead as well, in relative newcomer Demetrius Shipp Jr. In addition, Jamal Woolard has been set to play the Notorious B.I.G. Get more details on the Tupac Shakur biopic casting, and see the first photos of Shipp on set, after the jump. 
Shipp himself announced his Tupac Shakur biopic casting on Twitter (via Variety). Shipp's only IMDb credit to date is an as-yet-unreleased TV movie titled #unlock'd, so it's hard to guess how he'll fare as the iconic rapper. Which could ultimately work to his advantage, since it means Shipp won't come with the baggage a more recognizable actor might. Shipp is also uniquely qualified for the role in one really obvious way: he bears a striking natural resemblance to Shakur.
Here's an Inside Look into the 'All Eyez On Me' Movie https://t.co/BPkMTkTy0k pic.twitter.com/UK7ubv00be

— Project Casting (@ProjectCasting) December 20, 2015
Joining Shipp will be Woolard as Shakur's rival Biggie Smalls (a.k.a. The Notorious B.I.G., real name Christopher Wallace). It should be familiar territory for Woolard — he began his career playing Biggie in the 2009 biopic Notorious. In addition, Global Grind reports musician Keyshia Cole put up a (since-deleted) Instagram post announcing her acting debut in All Eyez on Me. Actor Hill Harper has also revealed his involvement through social media. DeSean Jackson and LT Hutton serve as producers.
The Tupac Shakur biopic has suffered several stops and starts over the years. Antoine Fuqua was attached to direct at one point, and then John Singleton. When Singleton dropped out, Carl Franklin stepped up, only to walk away as well. A few weeks ago, Morgan Creek finally settled on Boom, a music video and commercial director. Timing surely played a big role in that decision, as the rights to Shakur's music were set to revert to his mother Afeni Shakur if production did not get underway by the end of 2015.
Shakur was recently portrayed onscreen by Marcc Rose in Straight Outta Compton. and Anthony Mackie played him in Notorious. However, All Eyez on Me will be the first film to focus primarily on the late rap legend. Shooting is ongoing in Atlanta. No release date has been announced.