J.J. Abrams Regrets Not Directing 'Star Wars: Episode VIII'?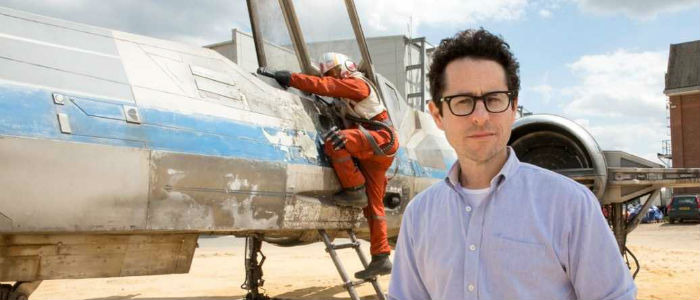 Thank God Star Wars: The Force Awakens turned out as well as it did, because if it disappointed, imagine how much all this Star Wars content would sting. At /Film we'd basically be poking our fingers in your wounds — and nobody wants that. Director J.J. Abrams helped bring the series back in a big way, making jaded fans and newcomers excited about Star Wars. Abrams decided not to return for Episode VIII, because he didn't want to be known as "the sequel guy." Lucasfilm, thankfully, found a more than suitable replacement in Rian Johnson (Looper).
Does Abrams have any regrets about turning the gig down, though? According to a friend and frequent collaborator, he does.
Actor Greg Grunberg played Pilot Snap Wexley in Star Wars: The Force Awakens. Him and Abrams go way back, and Grunberg often appears in the director's work. The actor told The Washington Post J.J. Abrams regrets not directing Episode VIII:
"He read it and said something he never, ever says. He said: 'It's so good, I wish I were making it.' He may have said something one time on Lost, with Damon [Lindelof, the co-creator], but I never hear him express regret like that."
Something tells me the director isn't losing any sleep over his decision. His comments were really more about his admiration of Johnson's script than perhaps any genuine regret. It seemed odd Abrams turned down the chance to return to the director's chair, but his reasoning was understandable. How many sequels can a director make until they get tired of them? Not only did he get the chance to direct a Star Wars film, but he probably just bought himself a golden ticket to direct whatever he wants next.
It doesn't sound like the director will remain too involved in the franchise, but it's undeniable what he's accomplished will influence where the series goes next. Earlier this month the director told us him and all involved wanted to leave the door open for Johnson to take the franchise in a new direction, even though they did set up future plot points:
"No, because at that point we were sitting down and talking about where this might go, even as early on as with Michael Arndt. We were sort of plotting out, because obviously if you know up front that you're building the pacing inside a trilogy structure, we needed to have some sense of where this saga was going without locking in on things and leaving room for creative development. But we had to have some sense of where we were going.  We don't write a treatment but there are countless times we came up with something and said 'oh, this would be so great for Episode VIII!' or 'Thats what we could get to in IX!' It was just that kind of forward moving story. But we knew this had to neither be a backwards moving nostalgic trip only nor a beginning of a movie without a satisfying conclusion, and that was part of the balancing act — embracing what we have inherited and using that where and whenever possible to tell a story that hasn't been seen yet. We also knew that certain things were inevitable in our minds but that didn't mean it would be inevitable for whoever came in next."
We'll have to wait a couple years to see what happens next. Star Wars: The Force Awakens is now in theaters.