'Bridget Jones's Baby' First Look: Bridget Finds Herself In A Cuddly New Love Triangle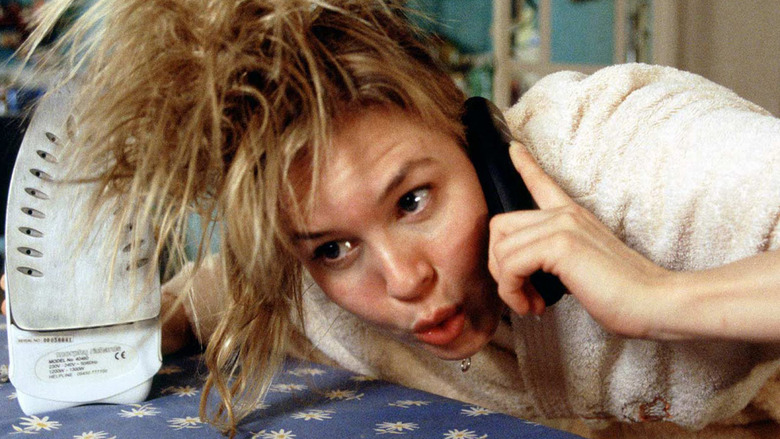 Over a decade after we last saw her, Bridget Jones (Renée Zellweger) will return next year in Bridget Jones's Baby. And in typical Bridget form, she finds herself in another romantic quandary: she's pregnant, and not entirely sure who the father is. Her on-again, off-again beau Mark Darcy (Colin Firth) is still in the picture, but so is a charming billionaire named Mark Qwant (Patrick Dempsey).
It's a tough situation to be in, but it's hard to feel too bad for Bridget. Not every single gal gets the opportunity to choose between Pride & Prejudice's Mr. Darcy and Grey's Anatomy's McDreamy, after all. In fact, the love triangle looks downright cuddly in the first images from the sequel. Get your Bridget Jones Baby first look after the jump. 
The first promo image of Bridget Jones's Baby, released in October, suggested that Bridget's trusty iPad might be her real true love. But no, it turns out the "wanton sex goddess" is still single. Check out the new images from EW below:
Bridget Jones's Baby promises to bring fans more of what they love. Once again, Bridget finds herself caught between two attractive suitors. But don't be too quick to assume Mark Qwant is just the new Daniel Cleaver (Hugh Grant, who won't return for the sequel). "He's a very different kind of rival," Firth said of Dempsey's character. "He's not somebody I've known since we were kids. He's an outsider and he threatens Mark Darcy in a very, very different way than Daniel Cleaver did."
Based on the photos, it looks like Bridget remains as adorably klutzy as ever. "I think that's her essence really, isn't it?" said Zellweger. "All of us do things in our personalities that we don't outgrow." In one, she's covered in mud as Dempsey's character rushes to help her, and in another she's looking overwhelmed at Christmastime. "I like that she tells what it's like to be a woman in these really relatable situations," said Zellweger. "It's so right to tell a story about Bridget in this stage of her life."
The baby's paternity won't be the only question hanging over Bridget Jones's Baby. "There are various mysteries to be resolved," teased Firth. "Who does she end up with? Whose baby is it? You can resolve one and make the other a question. Those are things which might not be revealed until very later on. I rather like it. It's not often you have something where you have the possibility of keeping a surprise."
Bridget Jones's Baby is due September 16, 2016. Sharon Maguire directs.