'Kindergarten Cop 2' First Look: Dolph Lundgren Is The New Arnold Schwarzenegger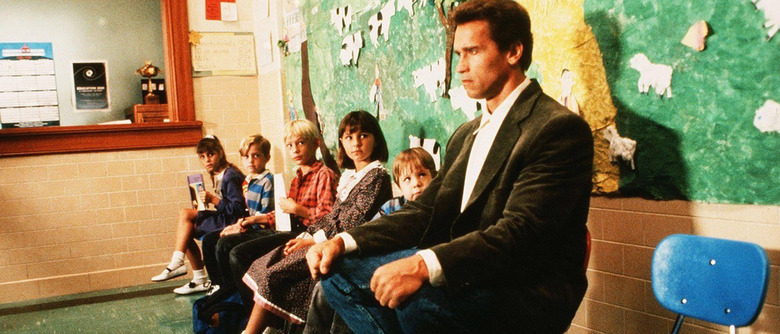 We're still digesting Star Wars: The Force Awakens, even as we rush ahead with last-minute Christmas preparations. But in this hectic time, let's not forget to take some time and appreciate one film that's celebrating a landmark anniversary. That would be Kindergarten Cop, which turns 25. And what better way to celebrate than by taking a first look at its forthcoming sequel, Kindergarten Cop 2?
Yes, Kindergarten Cop 2 is still happening, and we actually have the pictures to prove it. Dolph Lundgren replaces Arnold Schwarzenegger as the tough-guy cop who goes undercover as a grade-school teacher, with hopefully hilarious results. Get your Kindergarten Cop 2 first look after the jump. 
About.com premiered the Kindergarten Cop 2 first look.
Kindergarten Cop 2 comes from Universal's 1440 Entertainment division, which specializes in direct-to-video sequels and remakes. Their other works include Jarhead 3: The Siege, The Scorpion King 4: Quest for Power, and Beethoven's Treasure Tail. You can expect Kindergarten Cop 2 to hit home video sometime in 2016.
Lundgren leads the cast as Agent Reed, who goes undercover to retrieve a flash drive with sensitive information stolen from the Witness Protection Program. Like Schwarzenegger's John Kimble in the original, he finds himself in over his head when he has to go undercover as a kindergarten teacher. To make matters worse, he'll also be dealing with the school's "politically correct environment," as About.com puts it.
Don Michael Paul (Jarhead 2: Field of Fire) is directing Kindergarten Cop 2 from a script by David H. Steinberg (American Pie 2). Bill Bellamy also stars. And if you're wondering why Kindergarten Cop 2 is a thing at all, the first seven words of this statement by Universal 1440's Glenn Ross should clear things up:
Kindergarten Cop grossed over $200 million worldwide and has been entertaining audiences of all ages. In this exciting reboot, we introduce a unique blend of humor and action to the next generation of viewers, as well as share a reimagined version of the story with longtime fans who have made this an enduring family favorite.
If you prefer your Kindergarten Cop old-school style, revisit the trailer for the original below.
And let's not forget one of the best moments from the original.