'Captain America: Civil War' Art Has Everyone Fighting, But Who Is War Hammer?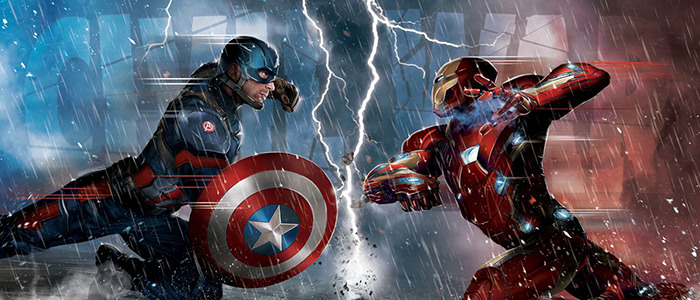 The Avengers looked stronger than ever when we last left them in Avengers: Age of Ultron. When they weren't joining forces to defeat unstoppable killer robots, they were partying it up at Tony's and recruiting new team members. But dark times are ahead for our heroes, as we've already seen in the first trailer for Captain America: Civil War. Today, a new bit of promo art digs even deeper into the superpowered showdown to come. Check it out after the jump. 
Feast your eyes on the new Captain America: Civil War art by Andy Park and Ryan Meinerding, from Total Film (via Comic Book Movie).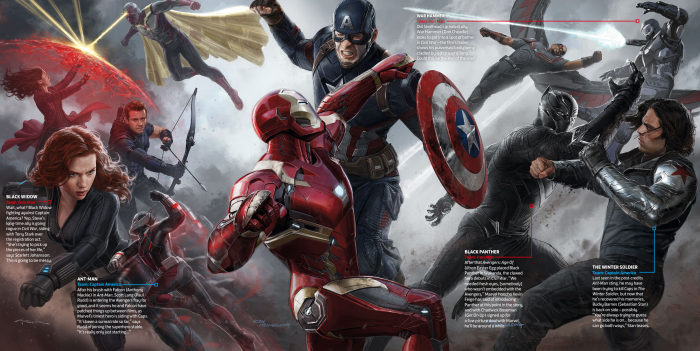 For the most part, the image and its accompanying text cover stuff we already know, but there is one weird detail: Don Cheadle's character is labeled "War Hammer," which is not a name he's ever used before. Is this just a typo on Total Film's part, or is Rhodey getting another name change? He's previously gone by Iron Patriot but is more commonly called War Machine. Maybe he just doesn't want to get mixed up with that other, totally terrible War Machine from real life. If that's the case, it's hard to blame him.
Elsewhere, we see Black Widow (Scarlett Johansson) face off against Ant-Man (Paul Rudd), of all people, while Scarlet Witch (Elizabeth Olsen) and Vision (Paul Bettany) go head-to-head. The Black Panther blurb reveals Chadwick Boseman has a five-picture contract (a bit shorter than the six- to nine-film contracts that some of his co-stars have). The Iron Man vs. Captain America matchup takes center stage, of course. And poor Hawkeye (Jeremy Renner) is just standing off to the side, pointing his arrow at nothing in particular and hoping no one notices him.
"Captain America: Civil War" picks up where "Avengers: Age of Ultron" left off, as Steve Rogers leads the new team of Avengers in their continued efforts to safeguard humanity. After another international incident involving the Avengers results in collateral damage, political pressure mounts to install a system of accountability and a governing body to determine when to enlist the services of the team. The new status quo fractures the Avengers while they try to protect the world from a new and nefarious villain.
Captain America: Civil War arrives May 6, 2016. Joe and Anthony Russo are directing.