'Bride Of Frankenstein' Writer Shuffles Forward With 'Spider-Man' Writer David Koepp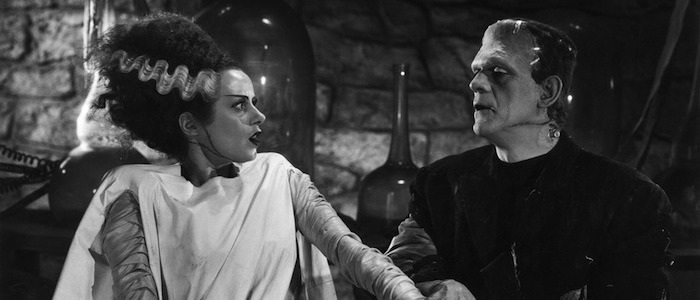 Universal's Bride of Frankenstein reboot is slowly but surely making its way down the aisle. Spider-Man and Jurassic Park writer David Koepp has just been set to direct the new movie, which the studio is still hoping Angelina Jolie will direct and star in. Learn more about the new Bride of Frankenstein writer after the jump. 
Last month we heard Jolie had their eye on Jolie for the project, and today Variety confirms the studio wants her to both direct and star. It'd be a slightly unusual move for Jolie. As a director, she's focused on grown-up dramas like Unbroken and By the Sea. But it's not like she's totally opposed to big studio projects, either. Her most commercially successful movie to date was Disney's Sleeping Beauty retelling Maleficent.
In any case, Jolie won't make a final decision on the project until a script is in, so Koepp has been hired to take care of that step. He's worked with the studio many times before, dating back to the 1990s when he worked on films like Jurassic Park, Death Becomes Her, The Paper, and Carlito's Way for them. His other credits include the first Spider-Man movie, the first Mission: Impossible movie, and the War of the Worlds reboot.
Bride of Frankenstein will be part of the Universal Monsters shared universe, along with 2017's The Mummy and 2018's The Wolf Man. New versions of Van Helsing, Frankenstein, Dracula, and The Invisible Man are also in various stages of development. Alex Kurtzman and Chris Morgan are heading up a writers room for the franchise that also includes Aaron Guzikowski (Prisoners), Noah Hawley (FX's Fargo), and Ed Solomon (Men in Black).
Plot details are being kept under wraps for now, but we know it'll be set in the modern day to facilitate potential crossovers. There's been some question of whether these would be action-adventure movies, as reported early on, but Kurtzman has clarified that the franchise will remain rooted in horror. And the monsters themselves will be examined closely. "This is not a heightened world," said Morgan. "We're exploring issues of family identity and questions of, 'Where do I belong in the world?'"
Bride of Frankenstein doesn't yet have a release date, which means it's probably a few years out still. That should give you plenty of time to get caught up with the 1935 original starring Elsa Lanchester and Boris Karloff.