'Star Wars: The Force Awakens' And More Honored At The AFI Awards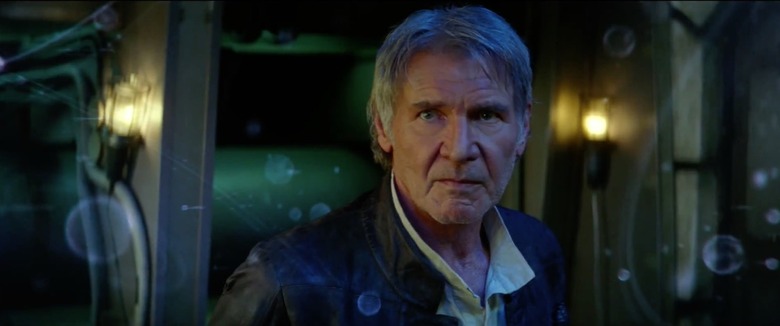 This year marks the 16th anniversary of the AFI Awards. Voting was delayed this time around to accommodate J.J. Abrams' Star Wars: The Force Awakens, which didn't screen for press until this week. AFI was correct to wait, because it ended up finding a spot in its movies of the year list.
Learn bout the Star Wars AFI award and see what else made the cut after the jump.
This year's 16 jurors included some names notable names, such as directors Bennett Miller (Moneyball) and John Ridley (Jimi: All Is by My Side, an overlooked Hendrix biopic), and producer Emma Thomas (Interstellar). The honorees are decided "through an AFI jury process in which AFI trustees, scholars, film and television artists and critics determine the most outstanding achievements of the year."
Most of their selections are no-brainers, but there are a few surprises. Here are AFI's movies and TV programs of the year:
MOVIES OF THE YEAR
THE BIG SHORT
BRIDGE OF SPIES
CAROL
INSIDE OUT
MAD MAX: FURY ROAD
THE MARTIAN
ROOM
SPOTLIGHT
STAR WARS: THE FORCE AWAKENS
STRAIGHT OUTTA COMPTON
TV PROGRAMS OF THE YEAR
THE AMERICANS
BETTER CALL SAUL
BLACK-ISH
EMPIRE
FARGO
GAME OF THRONES
HOMELAND
MASTER OF NONE
MR. ROBOT
UNREAL
I'll never tire of seeing Mad Max: Fury Road appear on these sorts of lists. It's the kind of film that, even if it was nominated for Best Picture and took home some Oscars, it wouldn't face much of a backlash, unlike a lot of Oscar winners, because it's just that good.
As for Star Wars: The Force Awakens, besides its glowing reviews and the few dimes it's going to make at the box-office over these next few weeks, its odds of scoring a Best Picture or Best Director nomination feel less likely than Fury Road's. It is Star Wars, so it's not like it's the kind of movie that needs some awards love to find an audience. Plus, while Empire Strikes Back may have won the People's Choice Award for Favorite Movie of the Year, it wasn't nominated for Best Picture. Even if you go nuts for Abrams' sequel, don't get your hopes up for Oscar gold.
The TV selection is pretty on point, but it's a shame to see The Leftovers, Penny Dreadful, and Hannibal left off the list. I was going to say maybe it's because they're too genre-heavy, but that's unfair to say, considering Star Wars: The Force Awakens and Mad Max: Fury Road were selected as movies of the year.