Force Awakens Bits: More Online Tickets Sold Than Any Movie, Higher Critics Rating Than Original Trilogy, And More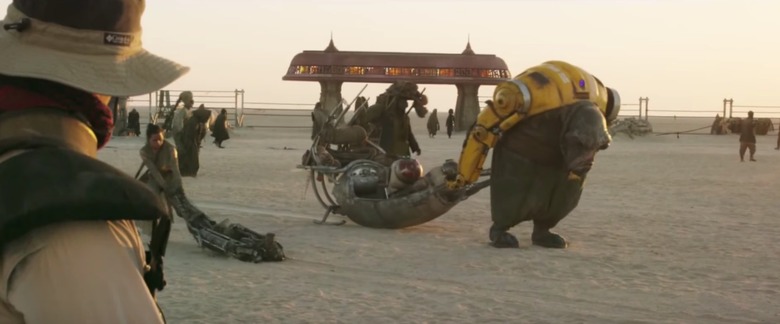 Star Wars: The Force Awakens hits theaters tonight nationwide. Before you see the movie, check out the latest edition of Force Awakens bits for the following spoiler-free info:
Force Awakens has sold more tickets than any other movie on Fandango, not just pre-sales but their full theatrical run.
Learn how C3PO's suit was greatly improved for the filming of the new movie.
JJ Abrams explains why he didn't return for Episode VIII or IX.
Abu Dhabi recreated Starkiller Base as a tourist attraction.
Force Awakens is 95% Fresh on Rotten Tomatoes with 200 reviews, a ranking currently higher than all the previous Star Wars films.
Adam Driver explains how the lightsabers in Force Awakens finally realized George Lucas' original vision.
Costume designer Michael Kaplan on creating Han Solo's more mature look.
The header image is a behind the scenes shot from a featurette on shooting in Abu Dubai, which you can watch in this post.
All this and more. Hit the jump to hyperspace!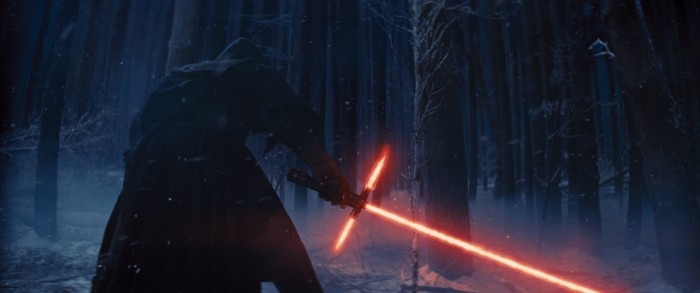 How the Lightsabers In The Force Awakens Finally Realized George Lucas' Original Vision
Adam Driver spoke to The Telegraph (via io9) about the controversy regarding his crossbreed lightsaber, and pointed out that the way The Force Awakens portrays his saber is actually fulfilling George Lucas' original vision for the laser sword:
When George Lucas did the first film, he wanted them to be really heavy, but they couldn't quite figure it out. This is the first time that we're actually fighting with the whole lightsaber too. Before it was just the hilt with [something] like an antenna or a green stick, but this was state of the art – it actually sends off light.
JJ Abrams Explains Why He Didn't Return For Episode VIII or IX
Fandango asked director JJ Abrams if he ever planned to return for Episode VIII or Episode IX of the Star Wars saga, and he responded with the following:
I remember feeling when I was working on this movie, and we were midway through production and I felt that I didn't think that it would have been, given what we were all giving to seven, something that I was going to be able to do in anyway that would do service to the movie, to do eight. Meaning, I knew I would need some time off. It wouldn't work on their schedule. It wouldn't have been the right thing. I knew if seven worked as well as I was hoping it would then thats a wonderful place to have done my part in the Star Wars world and step back. And if it didn't go as well as I was hoping it would, no one would want me to do the next one. So there was only a win to say this was the movie to direct.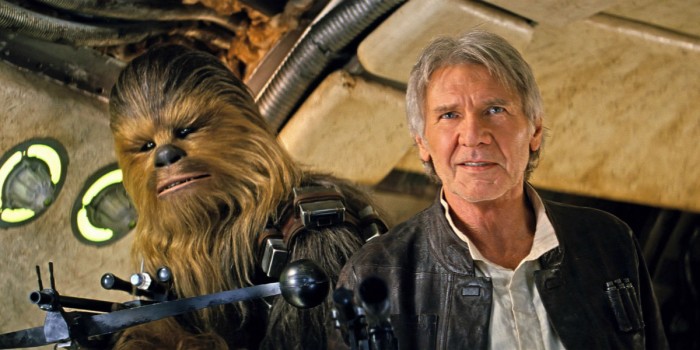 Han Solo's More Mature Costume Design
Force Awakens costume designer Michael Kaplan talked to People Magazine about the film's costumes. Here's an excerpt where he discusses creating a more mature look for Han Solo:
"I wanted Han's costume to feel familiar, since Harrison Ford is the same actor playing the same character," Kaplan says. "Of course he's older, but he's still in terrific shape. I wanted it to seem like Han was still choosing his own garb. As for Luke, I'm not sure. Let me know what you think on Dec. 18."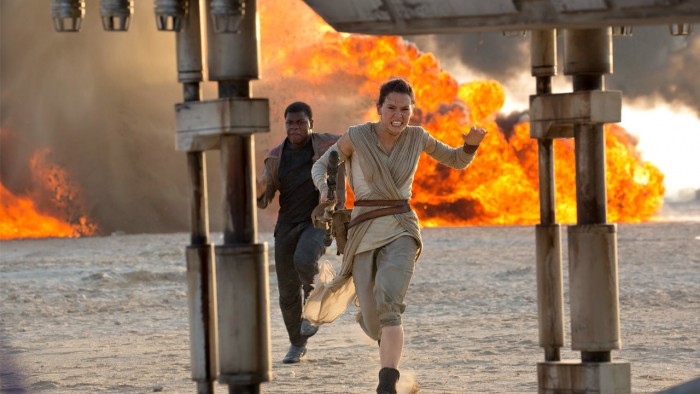 Force Awakens Has Sold More Tickets Than Any Other Movie In Fandango.com History
Fandango.com has announced that Star Wars: The Force Awakens has sold more tickets than any other movie in the company's history (i.e. since 2000). And thats not just ticket pre-sales, but even besting the full theatrical run of previous top sellers.
The year's most anticipated movie, "Star Wars: The Force Awakens," doesn't screen in movie theaters nationwide until tonight, but it has already broken Fandango's record for the most tickets sold for any film during its entire theatrical run. Even more impressive, this ticketing record was achieved during the pre-release window.
"'The Force Awakens' is a genuine cultural phenomenon," says Fandango President Paul Yanover. "The extraordinary ticketing demand is truly unprecedented. It is Fandango's top-selling movie of all time, even before it has even hit theater screens. It's great to see that all fans can enjoy the 'Star Wars' experience, as our theater partners continue to add new screens and new showtimes every day."
Fandango is working daily with all the nation's exhibitors, including Regal Cinemas, AMC Theatres, Cinemark, Carmike and every major theater chain across the country, to continue to expand show time selection to meet the fan demand. As of today, Fandango's new list of Top Five Ticket-Sellers of All Time is as follows:
1. "Star Wars: The Force Awakens" (2015)
2. "Jurassic World" (2015)
3. "The Hunger Games: Catching Fire" (2013)
4. "Avengers: Age of Ultron" (2015)
5. "The Hunger Games" (2012)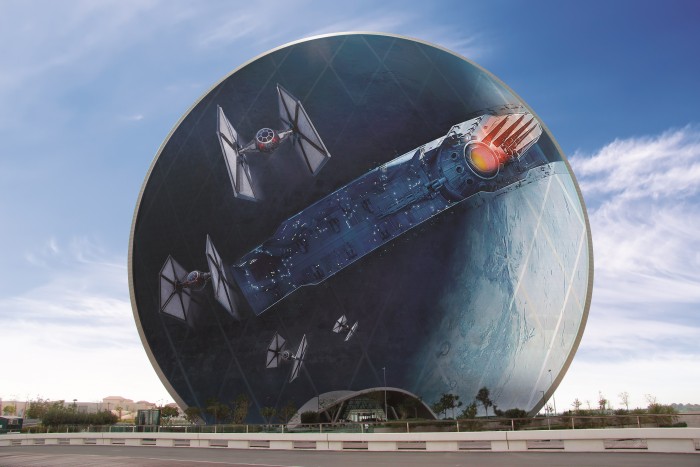 Abu Dhabi Recreated Starkiller Base As A Tourist Attraction
Since Abu Dhabi hosted a short portion of the film shoot for Star Wars: The Force Awakens, they have created a tourist attraction which will feature sets and props from the film. The installation features a 100-meter-high recreation of Starkiller Base on the outside of Abu Dhabi's landmark circular coin-shaped Aldar HQ building, which is the world's first circular skyscraper.
You can watch a feature on the Abu Dhabi shoot above.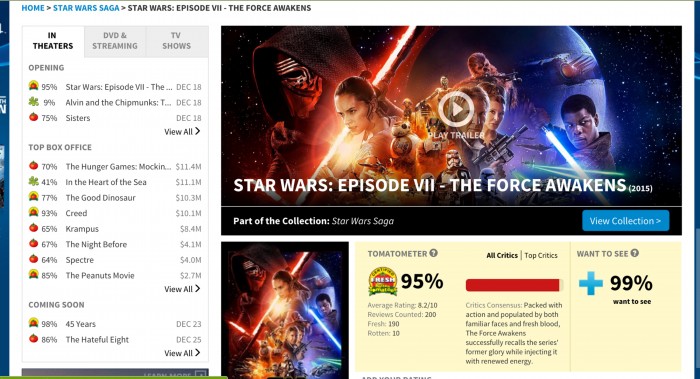 The Force Awakens Is 95% Fresh On Rotten Tomatoes
In case you haven't heard, Star Wars: The Force Awakens is getting great reviews. In fact, the film is 95% fresh on Rotten Tomatoes. With 200 critic reviews filed, only 10 reviews so far have been resisted "rotten" (i.e. negative). Currently The Force Awakens ranks higher than any of the previous Star Wars films. A New Hope and  Empire Strikes Back scoring 94% each, and Return of the Jedi scoring 80%. The Phantom Menace is rotten at 56%, while Attack of the Clones and Revenge of the Sith are fresh at 66% and 79% respectively.
Of course, over time as more reviews come in this rating will likely lower below A New Hope and Empire Strikes Back, but I wouldn't expect it to hit lower than 88%, leaving it higher than Return of the Jedi.
.@ChrisEastabrook We have a projector & screen onboard & I'm told that @starwars will be waiting for us up there...what a place to watch it!

— Tim Peake (@astro_timpeake) December 12, 2015
Force Awakens Will Screen In Space
The International Space Station will screen Star Wars: The Force Awakens, according to a tweet from British astronaut Tim Peake. How cool is that? The 43-year-old astronaut arrived at the ISS via Soyuz for a six-month stint on Tuesday.
C3PO Suit Greatly Improved For Force Awakens
C3PO actor Anthony Daniels reveals to The Canadian Press that they created a nee and improved suit for him to wear in Star Wars: The Force Awakens. Hear the star explain whats different in the video embedded above.