'Whiskey Tango Foxtrot' Trailer: Tina Fey Heads To Afghanistan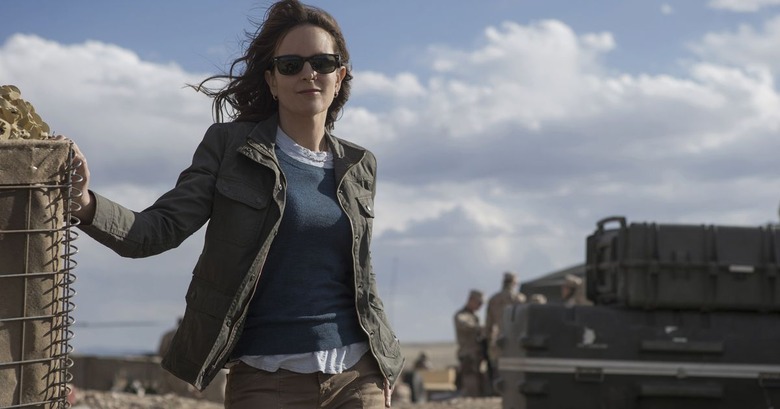 As Sisters prepares to go head-to-head with Star Wars: The Force Awakens at the box office this weekend, Paramount has dropped the first trailer for Whiskey Tango Foxtrot. Tina Fey leads the war comedy about a journalist sent to Afghanistan on assignment. Initially out of her element, she adjusts to the wild, adrenaline-fueled atmosphere.
Whiskey Tango Foxtrot is based on the memoir by former Chicago Tribune reporter Kim Barker, and directed by Glenn Ficarra and John Requa (Crazy, Stupid, Love.) Also starring are Margot Robbie, Martin Freeman, Billy Bob Thornton, Alfred Molina, and Christopher Abbott also star. Hit the jump to see the Whiskey Tango Foxtrot trailer.
In an interview with USA Today (which debuted the photos above), Fey noted what an unusual experience Whiskey Tango Foxtrot was for her. "For me to get to do a movie where I fly in helicopters and shoot guns and run from explosions, that's a treat," she said. "I don't get to do any of those things on a daily basis."
The decision to cast Abbott and Molina as Middle Easterners seems questionable, but overall there's a lot to love about this cast. Robbie plays a British journalist who befriends Kim and, as we see in the trailer above, teaches her the meaning of "Kabul cute." "[It's] the idea when a regular normal-looking woman goes into a place where there aren't very many women," Fey explained. "She becomes a real object of desire in a way that is hopefully comical."
In particular, sparks fly between Kim and Iain MacKelpie, a Scottish war photographer played by Freeman. Molina's character, a local official, also has a thing for Kim, "and doesn't have the best boundaries with that," said Fey. Rounding out the cast is Thornton as a military general.
The film aims to strike a balance between the humor and the drama of the situation, and the first trailer is likable enough thanks mostly to Fey and Robbie. But so far it looks more like a war-themed Eat Pray Love than anything else — as one character says, "That's the most American white lady story I've ever heard." Hopefully the next trailer will have a little more depth to it.
Whiskey Tango Foxtrot arrives in theaters March 4, 2016.