'Storks' Teaser Trailer: Nicholas Stoller Delivers Kelsey Grammer As A Bird CEO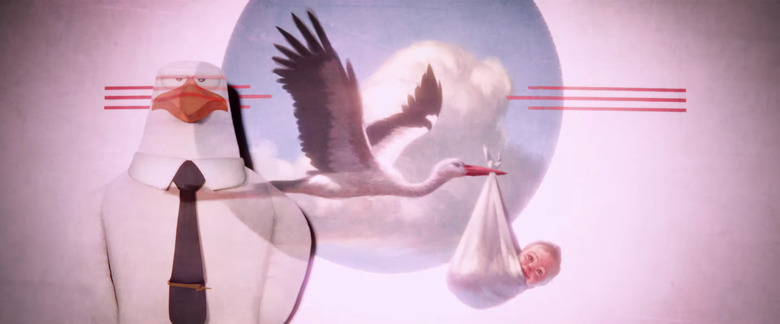 Nicholas Stoller has already made a name for himself as a comedy director with films like Forgetting Sarah Marshall and Neighbors, and now he's branching out with his first animated feature. Co-directed by Stoller and Pixar vet Doug Sweetland, Storks features the voices of Kelsey Grammer and Andy Samberg as storks who, instead of delivering babies, deliver packages for an online retailer.
Also starring are Keegan-Michael Key and Jordan Peele, for those of you who haven't quite recovered from the end of Key & Peele, though you don't hear them in the first promo. Watch the first Storks teaser trailer after the jump. 
The Storks teaser trailer comes to us from Warner Bros. UK. According to People Magazine, Grammer plays Hunter, the CEO of Cornerstone.com, the online retailer that the storks work for, while Samberg voices Junior, a delivery stork who makes a huge mistake.
Storks is the new movie to come out of the Warner Bros. animation think tank, which consists of Phil Lord and Chris Miller (The Lego Movie), John Requa and Glenn Ficara (Crazy, Stupid, Love.), and Jared Stern (Mr. Popper's Penguins). All five are credited as executive producers on Storks. The teaser doesn't show us too much, but with that team behind the scenes we'll definitely be keeping this project on our radar. Here's the synopsis:
Storks deliver babies... or at least they used to. Now they deliver packages for global internet giant Cornerstore.com. Junior, the company's top delivery stork, is about to be promoted when he accidentally activates the Baby Making Machine, producing an adorable and wholly unauthorized baby girl. Desperate to deliver this bundle of trouble before the boss gets wise, Junior and his friend Tulip, the only human on Stork Mountain, race to make their first-ever baby drop – in a wild and revealing journey that could make more than one family whole and restore the storks' true mission in the world.
Storks flies into theaters September 23, 2016.