First Look: Natalie Portman As Jackie Kennedy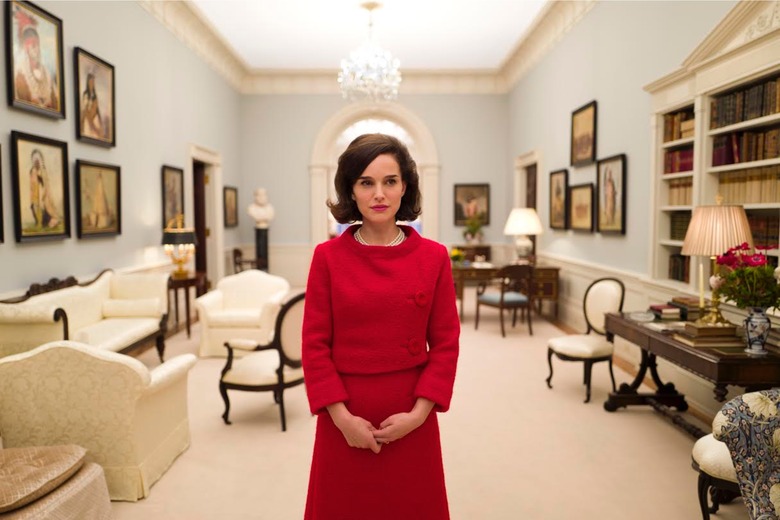 Protozoa Pictures has released the first photo of Natalie Portman in Jackie, a film about first lady Jacqueline Kennedy who fights to define her husband President John F. Kennedy's, legacy in the seven days immediately following his assassination. Hit the jump to see the full Natalie Portman Jackie Kennedy photo.
The film from Darren Aronofsky, Scott Franklin and Ari Handel's production company Protozoa Pictures is being directed by Oscar-nominated filmmaker Pablo Larraín (No, The Club) from a script by Noah Oppenheim (The Maze Runner and The Divergent Series: Allegiant) which made waves when it was the second highest ranking screenplay on the 2010 Black List (a listing of the best unproduced screenplays in Hollywood).
Natalie Portman Jackie Kennedy Photo
Here is the first photo from Jackie, featuring Natalie Portman as first lady Jacqueline Kennedy:
Shooting is currently underway in Paris, and the film will also feature an all star supporting cast: Peter Sarsgaard as Robert Kennedy, Greta Gerwig, John Hurt and Max Casella as Jack Valenti. The film was originally set up at Fox Searchlight, which has collaborated with Aronofsky on The Wrestler and Black Swan.
As of right now the film doesn't have an announced release date, only a tentative 2017 blanket date. I would expect a film like this would premiere at one of the prestige festivals. Aronofsky has a history with debuting his films at the Toronto International Film Festival, and that takes place in later 2016. Its also possible they could premiere a film like this at Cannes.