'Kung Fu Panda 3' Trailer: Po & Co. Are Back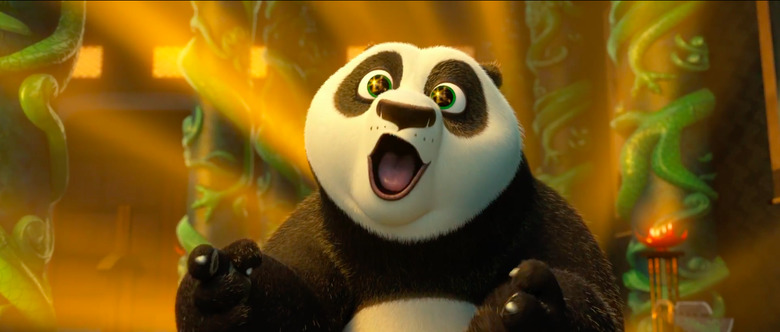 BB-8 is getting all the attention right now, but next year there'll be another adorably rotund hero trying to steal the spotlight. Actually, there'll be a whole village of them. DreamWorks has unleashed a new trailer for Kung Fu Panda 3, which once again features Jack Black as the voice of unlikely martial arts master Po.
Po discovers to his delight that not only is his father (voiced by Bryan Cranston) still alive, he's been tucked away in a secret panda paradise. But his newfound friends and family are threatened by the rise of Kai (J.K. Simmons), a supernatural villain tearing through the country. Watch the new Kung Fu Panda 3 trailer after the jump. 
Click over to Apple or watch below:
Like Po himself, the Kung Fu Panda franchise takes its time. By the time this threequel hits theaters, it'll have been nearly five years since the last one was released. But like the secret panda village, we're ready to welcome Po back with open arms. There's always room for fun, competent entertainment that'll entertain the kiddies without pissing off their parents.
Besides Black, Kung Fu Panda 3 also brings back the voices of Dustin Hoffman as Master Shifu, and Angelina Jolie, Jackie Chan, Seth Rogen, Lucy Liu, and David Cross as the Furious Five. Kate Hudson joins the cast as Mei Mei, a panda. Directed by Jennifer Yuh and Alessandro Carloni, Kung Fu Panda 3 arrives January 29, 2016.
In 2016, one of the most successful animated franchises in the world returns with its biggest comedy adventure yet, KUNG FU PANDA 3. When Po's long-lost panda father suddenly reappears, the reunited duo travels to a secret panda paradise to meet scores of hilarious new panda characters.  But when the supernatural villain Kai begins to sweep across China defeating all the kung fu masters, Po must do the impossible—learn to train a village full of his fun-loving, clumsy brethren to become the ultimate band of Kung Fu Pandas!