'House Of Cards' Season 4 Teaser & Premiere Date: Frank Underwood Is Only Getting Started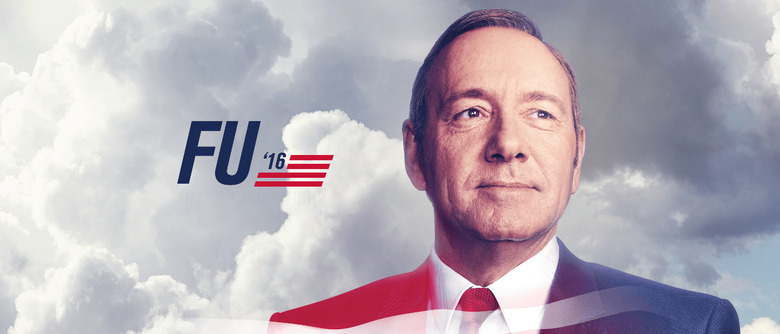 American voters have a whole lot of potential presidential candidates to choose from right now – too many, really, even if the field has narrowed a bit in the past several weeks. The last thing we need is yet another scheming politician vying for our attention and trying to claw his way to power.
Unless, that is, that scheming politician is Frank Underwood. Netflix dropped the first House of Cards Season 4 teaser during the GOP debate on CNN last night, which includes official information about the 2016 premiere date. Watch it after the jump. 
Here's the first House of Cards Season 4 teaser, which is cleverly constructed like a campaign ad. "America, I'm only getting started," Frank (Kevin Spacey) promises / threatens in that slippery Southern accent.
Let the pundits debate whether Ted Cruz or Marco Rubio or Donald Trump emerged victorious from the Republican debate; for TV lovers, Frank Underwood very clearly won the night.
Netflix also announced the House of Cards Season 4 premiere date on Twitter: March 4, 2016.
We're only getting started. #FU2016 #HouseofCards pic.twitter.com/rVybk7aFmT

— House of Cards (@HouseofCards) December 16, 2015
March 4 is a bit later than usual for House of Cards, which has arrived in February each of the last three years. If you need something to keep you occupied in the meantime, you can poke around Frank Underwood's campaign site, FU2016.com, and hunt for fun little Easter eggs. For starters, try clicking "Meet Claire Underwood" and see what happens.
Over three seasons of House of Cards, we've watched Frank climb from South Carolina congressman to vice president to president, sometimes via good old-fashioned manipulation, and other times by resorting to blackmailing and even killing those who stand in his way. We'll look forward to seeing what new heights he reaches — and what new lows he'll stoop to in order to get there. Meanwhile, let's hope next year's real-life presidential race is a little bit cleaner, or at least a little bet less murder-y.