'Martyrs' Trailer: This Is Kind Of The Remake You Expected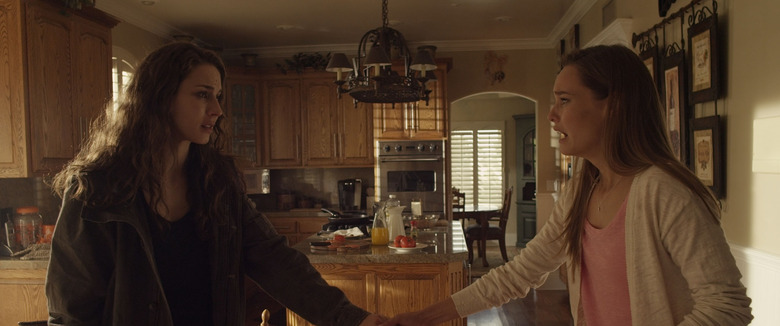 Pascal Laugier's 2008 French film, Martyrs, is one hardcore horror movie. Like plenty of other successful foreign horror films, it's gotten the U.S. remake treatment. An American version of Martyrs has been in the works for over five years now, and today we're getting our first real glimpse at the film. Watch the Martyrs trailer after the jump.
The story in the remake looks more or less the same: a young lady seeks revenge against those who tortured her as a child. This isn't a red-band trailer, so either there's a lot this trailer isn't showing or they made a PG-13 version of Martyrs. PG-13 or not, though, there was never a chance the American version of Martyrs would be half as violent as the original.
Here's the Martyrs trailer:
There is some talent behind this remake. It's written by The Revenant co-writer Mark L. Smith and directed by the Goetz Brothers (Scenic Route). That should make the Martyrs remake look slightly more appealing, but Anchor Bay seems to be dumping the film and the trailer leaves you wanting to revisit the original 2008 film instead. In a Q & A on Reddit, the Goetz brothers acknowledged they wouldn't managed to equal the violence of the original but still planned on pushing boundaries:
This seems to be the question of the most interest, so let's get right to it. If you've seen the first, or to put it more bluntly, are a huge fan of the first film's violence; this film will certainly not shock you. The first film pretty much knocked it out of the park with how far you can push torture and pain cinematically: it was literally breathtaking. But for as many people that loved it; it alienated just as many. This version is definitely a bit more accessible graphic-wise: but still pushes boundaries nonetheless.
Here's the official synopsis:
Ten-year-old Lucie flees from the isolated warehouse where she has been held prisoner. Deeply traumatized, she is plagued by awful night terrors at the orphanage that takes her in. Her only comfort comes from Anna, a girl her own age. Nearly a decade later and still haunted by demons, Lucie finally tracks down the family that tortured her. As she and Anna move closer to the agonizing truth, they find themselves trapped in a nightmare – if they cannot escape, a martyr's fate awaits them...
Martyrs opens in select theaters on January 22nd, 2016 and will be available on DVD and Blu-Ray on February 2nd, 2016.