First 'Suicide Squad' Synopsis Drops Hints About "Enigmatic" Big Bad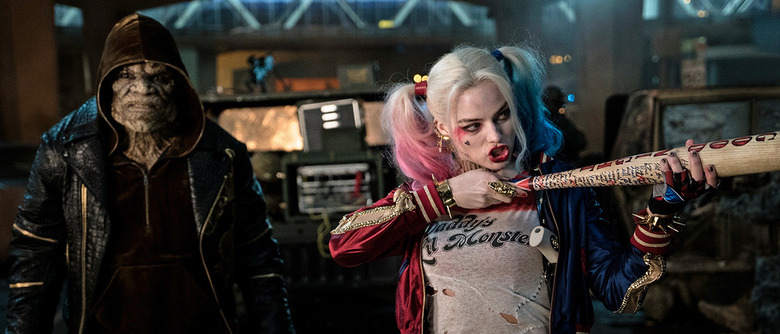 With the release of its first trailer, Warner Bros. / DC's Suicide Squad went from an oddball curiosity to one of the most highly anticipated blockbusters of 2016. But while the promo did a fine job of conveying the dark humor and gritty feel of the supervillain film, it didn't offer a whole lot in the way of plot.
Fortunately, the first Suicide Squad synopsis is here to fix that. It doesn't give away everything (which is not exactly something you can take for granted from a franchise that went ahead and named their next movie Batman v Superman: Dawn of Justice, just in case you were worried that the Batman v Superman feud would never end), but it does offer some tantalizing hints. Read the first Suicide Squad synopsis after the jump.
DC Comics (via ComicBook.com) released the first official Suicide Squad synopsis in an announcement for a new line of statues. Read it below:
It feels good to be bad... Assemble a team of the world's most dangerous, incarcerated Super Villains, provide them with the most powerful arsenal at the government's disposal, and send them off on a mission to defeat an enigmatic, insuperable entity. U.S. intelligence officer Amanda Waller has determined only a secretly convened group of disparate, despicable individuals with next to nothing to lose will do. However, once they realize they weren't picked to succeed but chosen for their patent culpability when they inevitably fail, will the Suicide Squad resolve to die trying, or decide it's every man for himself?
Naturally, the synopsis keeps things pretty vague. "An enigmatic, insuperable entity" could describe any number of characters within the DC universe (including a lot of the heroes), and over the past several months we've seen plenty of rumor and speculation about who the "big bad" of Suicide Squad will be.
One obvious guess is that it'll be Joker. He's obviously a dangerous force, and based on the marketing materials we've seen so far he doesn't seem to be what you'd call a team player. The group shots haven't included him, which might suggest he's operating independently from the rest of the baddies. And based on the trailer it's hard to tell just what his connection with the group will turn out to be.
But there have also been reports that Enchantress will turn out to be the true villain of Suicide Squad, and for what it's worth, she doesn't seem to be featured in any of the group shots either. In addition, we've heard rumors that Lex Luthor will appear. Meanwhile, it's confirmed fact that Batman will. Long story short, we have our guesses, but WB / DC isn't ready to confirm anything just yet.
Maybe poring over that Suicide Squad trailer again will yield some more clues:
Suicide Squad is in theaters August 5, 2016. It stars Viola Davis as Amanda Waller, Will Smith as Deadshot, Margot Robbie as Harley Quinn, Cara Delevingne as Enchantress, Jai Courtney as Captain Boomerang, Joel Kinnaman as Rick Flagg, Adewale Akinnuoye-Agbaje as Killer Croc, Adam Beach as Slipknot, Jay Hernandez as El Diablo, Karen Fukuhara as Katana, and Jared Leto as the Joker.