'Sherlock: The Abominable Bride' Trailer: Sherlock And Watson Travel Back In Time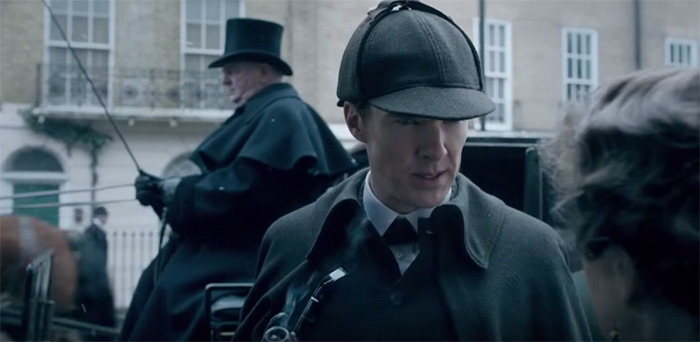 Sherlock Holmes (Benedict Cumberbatch) and Watson (Martin Freeman) are going back in time. The hour-and-a-half-long New Year's Day special, titled Sherlock: The Abominable Bride, sends the two pals back to 1895 London. The duo must track down Thomas Ricoletti's ex-wife, a killer ghost who still sports her wedding gown. Watch the Sherlock: The Abominable Bride trailer after the jump.
This special marks the return of Sherlock following a two-year hiatus. The show has always been set in present day, but they're having a little fun with this special by depicting the characters in the late 1800s. The episode is co-written by Steven Moffat and Mark Gatiss, and BBC One has released another nice tease of what awaits fans come New Year's Day.
Here's the Sherlock: The Abominable Bride trailer:
Sherlock is premiering in both the U.K. and U.S. on the same day, which is a first for the show. Over the summer, Moffat had this say about exploring the scarier side of Arthur Conan Doyle's writing:
The main difference I would say, the only temperature change moving it from Victorian and modern is ghost stories work better in the Victorian setting. Doyle stories that are scary chillers we haven't done much. Victorian era gives us a chance to do a creepy one, a scary one. Sherlock Holmes has the manners of a Victorian gentleman which he doesn't have in modern day, so he's less brattish. I'd say this Sherlock is a little more polished. He operates like a Victorian gentleman.
Here's the official synopsis:
Sherlock – The Abominable Bride: Dr John Watson, meet Mr Sherlock Holmes. We've been here before – but what if this wasn't the modern day but the late Victorian period? What if the world's most famous consulting detective and his best friend lived in a Baker Street of steam trains, hansom cabs, top hats and frock-coats? Welcome to 'Sherlock' in 1895! Some things, though, remain reassuringly the same. Friendship, adventure and especially, MURDER... Why is Thomas Ricoletti a little surprised to see his wife dressed in her old wedding gown? Because, just a few hours before, she took her own life... Mrs Ricoletti's ghost now appears to be prowling the streets with an unslakeable thirst for revenge. From fog-shrouded Limehouse to the bowels of a ruined church, Holmes, Watson and their friends must use all their cunning to combat an enemy seemingly from beyond the grave and the final, shocking truth about... the Abominable Bride!
Sherlock: The Abominable Bride airs January 1st, 2016 on PBS and BBC One.