Sam Taylor-Johnson To Direct Ted Kennedy Black List Drama 'Chappaquiddick'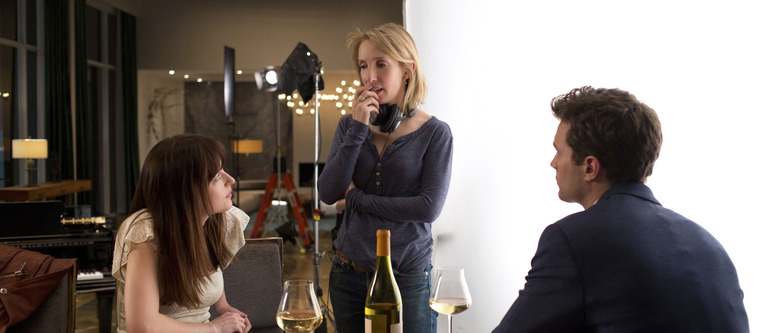 Now that she's broken free of the bonds of Fifty Shades of Grey, Sam Taylor-Johnson has moved on to a scandalous saga of a different sort. She's in talks to direct Chappaquiddick, about Ted Kennedy's 1969 car accident that killed his passenger. The script by Taylor Allen and Andrew Logan landed on the 2015 Black List earlier this week.
Get more details on the Sam Taylor-Johnson Chappaquiddick project after the jump.
On July 18, 1969, Kennedy (then the U.S. Senator from Massachusetts) drove his car off the road into a Martha's Vineyard bay. He was able to get to safety, but his passenger, 28-year-old former Robert Kennedy campaign worker Mary Jo Kopechne, drowned. Kennedy failed to report the accident to police until several hours later, which cast suspicion on the circumstances surrounding the incident.
THR describes Chappaquiddick as "a political thriller that chronicles the true story of what is described as the seven most dramatic days of Kennedy's life," including the incident and its aftermath, during which Kennedy "struggles to follow his own moral compass and simultaneously protect his family's legacy, all while simply trying to keep his own political ambitions alive."
Chappaquiddick is being produced by Mark Ciardi, Apex's Campbell McInnes, and DMG Entertainment's Chris Cowles. Allen and Logan will serve as executive producers, along with DMG's Chris Fenton. Said Ciardi, whose credits include McFarland, USA and Million Dollar Arm:
I've done a lot of true life stories, many sports stories, but this one had a deep impact on this country. Everyone has an idea of what happened on Chappaquiddick, and this strings together the events in a compelling and emotional way. You'll see what [Senator Ted Kennedy] had to go through.
Taylor-Johnson made her feature directing debut on the John Lennon biopic Nowhere Boy, and then followed up with the steamy romance Fifty Shades of Grey. Although the film was a huge hit, grossing $570 million worldwide (and although James deserves a lot of credit for making that movie much better than it could've been, given the source material) she famously butted heads with Fifty Shades author E.J. James on set, and opted not to return for the sequels.
Shooting on Chappaquiddick is expected to get underway next spring, and casting is already underway. We can probably expect to see this one in theaters around 2017 or so.