'Synchronicity' Trailer: A Genre-Bending, Time-Traveling Sci-Fi Noir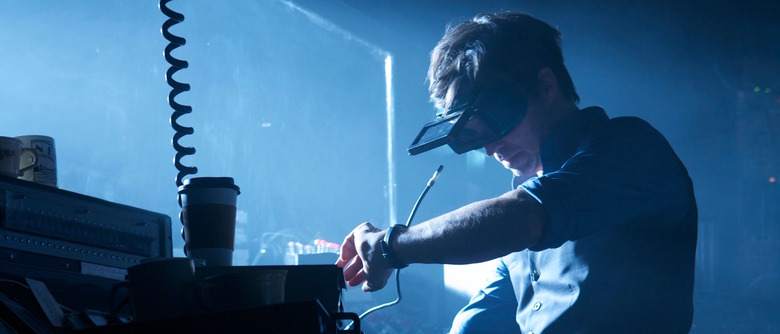 In addition to your Star Trek Beyonds and Independence Day: Resurgences, 2016 also promises some more unexpected, under-the-radar sci-fi offerings. Like Synchronicity, a new time-travel noir thriller from writer-director Jacob Gentry (of 2007's The Signal).
The twisty plot centers on a physicist named Jim Beale (Chad McKnight), whose new invention is able to fold the space and time to create wormholes. Things start to get weird when a mysterious dahlia flower appears out of nowhere, and he discovers that the woman he's just started flirting with, Abby (Brianne Davis), might not be exactly who she says she is.
Michael Ironside plays a venture capitalist who's interested in Jim's device, and AJ Bowen and Scott Poythress play Jim's scientist pals. Watch the Synchronicity trailer after the jump.
Synchronicity made its world premiere at Fantasia International Film Fest earlier this summer, to promising reviews. The Playlist described it as "a throwback sci-fi noir that's largely entertaining and, on a technical level, is admirably well-crafted." (It seems appropriate that a film about time travel would itself feel like a relic from another era.) Birth.Movies.Death. recommended seeing it not once but twice — because, according to them, it's "the kind of movie that will have you lingering in the lobby afterwards, asking questions and forming theories about the film's many revelations."
Magnet Releasing has Synchronicity in theaters and on VOD / iTunes January 22, 2016.
SYNCHRONICITY is a mind-bending 'Sci-fi Noir' in the tradition of Blade Runner, Gattaca and Memento. Daring physicist Jim Beale has invented a machine that can fold space-time and ruthless corporate tycoon Klaus Meisner will stop at nothing to get it. When Jim uses the machine to tear open the fabric of the universe, a rare Dahlia appears from the future. But in order to keep the rights to his invention he must prove that it works by finding the flower's identical match in the present. Jim soon discovers that the Dahlia lies in the hands of the mysterious Abby, who seduces him into revealing his secrets. Convinced that she is in league with Klaus to take ownership of his life's work, Jim travels back in time to stop the conspiracy before it can happen. But once in the past, Jim uncovers a surprising truth about Abby, the machine, and his own uncertain future.