The Black List 2015: The Year's Most Liked Unproduced Screenplays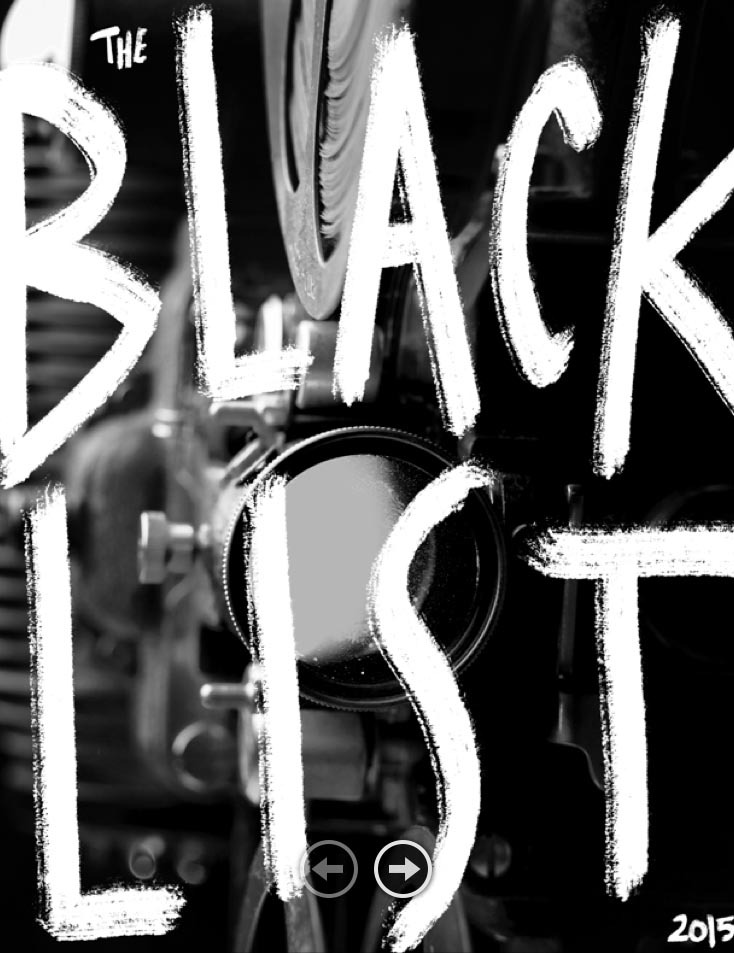 For over a decade now, the Black List has come out each December to reveal the most-liked unproduced screenplays of the year. We say "most-liked" because the folks involved are very clear that "the Black List is not a 'best of' list. It is, at best, a 'most liked' list." The list, which was compiled by polling over 250 film executives, contains dozens of screenplays written in (or "somehow uniquely associated with") 2015 but won't have started shooting by the end of the year. See the Black List 2015 after the jump.
As always, there are screenplays of all sorts, from comedy to sci-fi to drama, by writers of all kinds, from established veterans to total newcomers. According to the Black List site, over 225 films have been made from Black List screenplays, winning a total of 35 Oscars from 171 nominations. Last year's list included what are now upcoming films by Marc Webb (Gifted), Doug Liman (Mena), and Kenneth Lonergan (Mandhester by the Sea); the year before included Spotlight, American Sniper, and The End of the Tour. Other past Black List scripts include Whiplash, Argo, Django Unchained, Slumdog Millionaire, and The King's Speech.
So without further ado...
The Black List 2015
44 votes: Bubbles by Isaac Adamson
A baby chimp is adopted by the pop star Michael Jackson. Narrating his own story, Bubbles the Chimp details his life within The King of Pop's inner circle through the scandals that later rocked Jackson's life and eventually led to Bubbles' release.
40 votes: Stronger by John Pollono and Scott Silver
The true story of Jeff Bauman, who lost his legs in the 2013 Boston Marathon bombing and became an integral part of helping the police locate the Tsarnaev brothers.
37 votes: The Libertine by Ben Kopit
After the Head of the French National Assembly is placed under house arrest for accusations of sexual assault, he must live in a guarded apartment with his estranged wife until the case comes to a close.
37 votes: Rocket by Jeffrey Gelber and Ryan Belenzon
Roger "The Rocket" Clemens, one of the greatest pitchers of all time, has 4672 strikeouts, 354 wins and a record 7 Cy Young awards. This is the story of why he is not in the Hall of Fame.
34 votes: Crater by John J. Griffin
On the moon, five teens take an unauthorized and adventure-filled road trip just before one of them is to be sent away on a seventy-five year journey to another planet, leaving behind his best friends.
31 votes: Miss Sloane by Jonathan "Jonny" Perera
A powerful lobbyist sacrifices her career on Capitol Hill so she can push through an amendment enforcing stricter federal laws regulating guns.
28 votes: True Fan by John Whittington
After interfering with a foul ball during a Chicago Cubs playoff game, Steve Bartman was tortured and stalked by die hard Cub fans for potentially costing them their first National League pennant since 1945. Years later, in a new town with a new identity — but depressed, overweight and working a dead end job — Steve meets a woman who gives him a new lease on life and reason to live.
26 votes: Pale Blue Dot by Brian C Brown and Elliot DiGuisseppi
Twelve months after returning from a space mission, decorated astronaut Laura Pepper is arrested for the attempted murder of a fellow astronaut.
25 votes: Reagan by Mike Rosolio
When Ronald Reagan falls into dementia at the start of his second term, an ambitious intern is tasked with convincing the commander-in-chief that he is an actor playing the president in a movie.
21 votes: Bump by Ori Guendelman and Rob McClelland
After an accidental hit and run, a young lawyer's entire life unravels over the span of one night as he attempts to dispose of a corpse that turns out to be way more than an innocent victim.
21 votes: Eli by David Chirchirillo
Having moved into a "clean house" to treat his auto-immune disorder, eleven-year-old Eli begins to believe that the house is haunted. Unable to leave, Eli soon realizes that the house, and the doctor who runs it, are more sinister than they appear.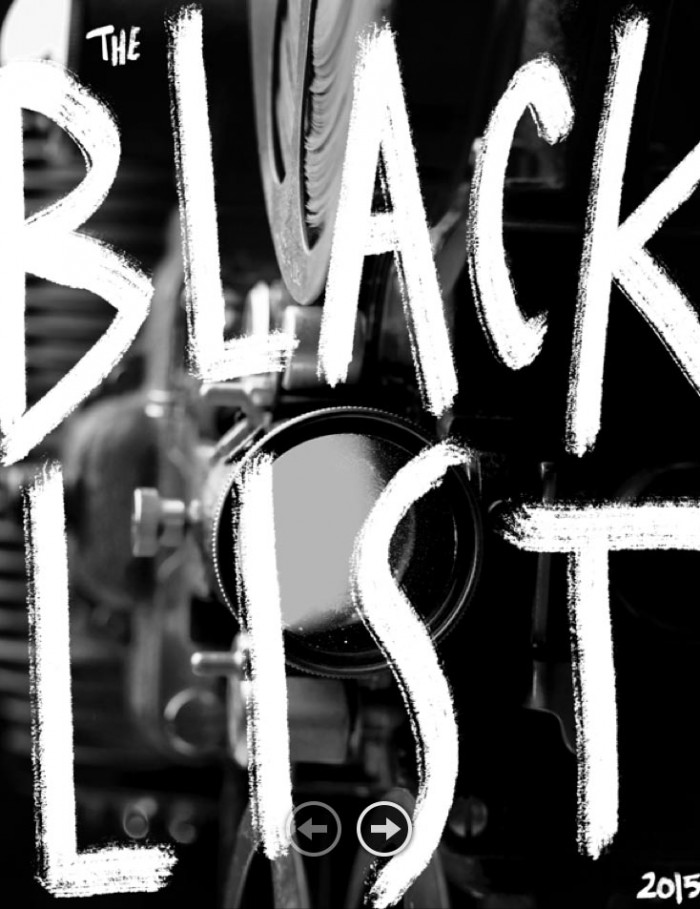 20 votes: Septillion to One by Adam Perlman and Graham Sack
A former FBI agent working the fraud unit of the Texas State lottery falls in love with a woman he's investigating after she mysteriously hits the jackpot three times.
20 votes: White Boy Rick by Logan Miller and Noah Miller
The true story of Richard Wershe, Jr., the only successful white boy gangster/drug kingpin in an African American dominated 1980's Detroit ghetto.
18 votes: Boomtown by Matt King
A slick corporate investigator with a closely guarded secret discovers a sinister criminal conspiracy in North Dakota oil boom country.
18 votes: Dreamland by Nicolaas Zwart
With his family's farm on the precipice of foreclosure, fifteen-year-old Eugene Evans is determined to capture a fugitive bank robber and collect the bounty on her head. Against all odds, he beats out the FBI and the local police to capture her, only to discover that all may not be what it seems.
18 votes: The Fisherman by Will Dunn
A fisherman sails out of Martha's Vineyard in search of the shark that killed his fellow sailors while they were stranded in the water for four days after their ship was attacked by a Japanese submarine.
18 votes: The Water Man by Emma Needell
A young boy tries to save his mother from terminal cancer by seeking out the town's bogeyman, "The Water Man," who is fabled to have conquered death.
17 votes: All the Money in the World by David Scarpa
The story of the Getty kidnapping crisis encompassing the Red Brigades, the Italian tabloids and the Vatican.
17 votes: Boy by Mattson Tomlin
A teenage boy is born with special abilities and spends his childhood switching names and cities in order to keep his identity hidden. When he loses control and accidentally kills his father, he and his mother have to go on the run.
17 votes: The Shave by Thomas White and Miles Hubley
A dirty cop, exonerated in the murder of a high school honor student, visits the boy's father at his barbershop and, while receiving a straight razor shave, listens to him recount the story of his son's life.
16 votes: Do No Harm by Julia Cox
An ambitious surgeon's life takes a dangerous turn when she indulges in an a air with a doctor whose god complex challenges her own.
16 votes: Hammerspace by Mike Van Waes
A terminally-ill teenager looking for answers about his missing father finds a key that unlocks an opening to an alternate animated dimension, and a new friend helps him repair his broken family.
16 votes: The Wretched Emily Erringer by Chris Thomas Devlin
Gleefully terrifying her small town as a serial killer known as "The Misfit Butcher," 13-year-old Emily Derringer becomes annoyed when a new killer comes to town and residents begin attributing his sloppy murders to the Misfit Butcher. In a macabre coming of age story, Emily must deal with her competition while also taking on the other trials and tribulations of junior high school life.
15 votes: Pandemonium, Splendidly Managed by Brett Conrad
A local Phoenix newscaster at the pinnacle of local celebrity slowly descends into the depths of madness while trying to become a game show host in Los Angeles.
15 votes: The Virginian by Michael Russell Gunn
Based on the novel by Owen Wister, a young, down-and-out George Washington, desperate to join the British Army, accepts a dangerous mission to conquer a French fort and save the American colonies.
14 votes: Castle Drive by Matthew Scott Weiner
Based on real events, the story of the writing of Fatal Vision, the 1983 bestselling true crime classic that chronicles the summer journalist Joe McGinness spent with "Green Beret Killer" Jeffrey McDonald while he was on trial for the brutal murder of his wife and children.
14 votes: Cut and Run by Zoe McCarthy
A female urologist and a retired hooker form an unlikely friendship when they team up to take down a notorious sex trafficker in Miami.
13 votes: The Burning Woman by Brad Ingelsby
A reckless, fun-loving young woman confronts the dark side of life after losing her daughter.
13 votes: Mayday 109 by Samuel V. Franco and Evan Kilgore
Based on actual events, a young John F. Kennedy struggles to save the crew of his PT Boat after it is sunk by a Japanese warship during World War II.
13 votes: Morningstar by David Birke
The war is over. A bitter and uneasy truce has been reached with an invading alien race, and a new cold war has begun. Fueled by suspicions of an alien spy in their ranks, the United Nations Intelligence Division entrusts their top agent, Martin Webber, with finding the mole.
13 votes: Move That Body by Lucia Aniello and Paul W. Downs
Five friends rent a beach house in Miami for a bachelorette weekend and accidentally kill a male stripper.
13 votes: Nyad by Robert Specland
Based on the true story of marathon swimmer Diana Nyad, who in 2013, after 4 failed attempts and at the age of 64, became the first person ever to open-swim from Cuba to Florida (55 hours non-stop) overcoming impossible odds, personal tragedy, and 103 miles of open ocean.
13 votes: Queen of the Air by Cat Vasko
Based on the book "Queen of the Air" written by Dean N. Jensen. The story of famed trapeze artist Lillian Leitzel and her relationship with fellow trapeze artist Alfredo Codona, who were two of the most famous entertainers of the world during their time.
13 votes: Spring Offensive by Matthew McInereney-Lacombe
Dr. Liz Scott, a British epidemiologist with the World Health Organization, is tasked with containing an outbreak of Ebola in Afghanistan's war torn Helmand province as the Taliban's assault on allied forces threatens to turn the localized outbreak into a global catastrophe.
12 votes: Blackfriars by Chris Bremner
Set around the Blackfriars massacre of 1978, the true story of a Boston police officer and a con man-turned-witness, who become unlikely friends hiding out in Bermuda, ultimately perpetrating a con on the Boston DA they're tasked to serve.
12 votes: Circle of Treason by Anna Waterhouse and Joe Shrapnel
Based on the book "Circle of Treason: A CIA Account of Traitor Aldrich Ames and The Men He Betrayed" written by Sandra Grimes & Jeanne Vertefeuille. When two women in the CIA suspect there is a mole working there, they have to overcome the institution's hierarchy and chauvinism to bring down the traitor.
12 votes: Star One by David Coggeshall
Two CIA agents must overcome their opposing worldviews to evade the Soviet and Chinese armies during a dangerous mission to Tibet in 1950. The true story of the first CIA agent ever to die in the line of duty; the "first star' on the CIA Memorial Wall.
11 votes: Bare Knuckle by Dave Matillo
New York City 1862: The bare knuckle boxing champion, Bad Jack, develops a crush on a common French girl and uses his political influence to send her Irish lumberman husband off to the Civil War so he can take her for his own. Unfortunately for Bad Jack, the Irishman doesn't die in the war and comes back a killer looking to exact revenge on the pugilist and his entire corrupt entourage.
11 votes: Chappaquiddick by Taylor Allen and Andrew Logan
A historically factual look at what really happened when Ted Kennedy drove off the road into a Martha's Vineyard bay with Mary Jo Kopechne in the car.
11 votes: Great Falls by Andy Friedhof
After negligently killing a hunter with their patrol car, an alcoholic Sheri 's Deputy and her superior officer must decide what to do with the only witness to their crime – a death row inmate only days from execution.
10 votes: Hunting Eichmann by Matthew Orton
The thrilling capture of Nazi war criminal Adolf Eichmann by a secret Mossad team in South America.
10 votes: Battle of New Orleans by Dan Kunka
In one of the greatest untold stories in American history, General and future President Andrew Jackson reluctantly partners with world-renowned pirate Jean Lafitte to lead a rag-tag team of soldiers against the indomitable British Army in the climactic battle of the War of 1812.
10 votes: Crimson Trail by Jeremy Shipp
Based on a true story. Devastated by the cold-blooded murder of his family, a devout frontier preacher risks his soul to lead a posse in pursuit of the Harpe Brothers—America's first serial killers.
10 votes: Labyrinth by Christian Contreras
Based on the book LAbyrinth by Randall Sullivan. The story of the investigation into the murders of Tupac Shakur and Notorious BIG.
10 votes: Our Week With Waller by Evan Mirzai and Shea Mirzai
After getting laid off, two Americans cash in their vacation pay and head abroad to Spain where their paths collide with one of the world's most dangerous terrorists.
10 votes: Set It Up by Katie Silberman
Two young assistants realize they can get more free time if they occupy their bosses' time by setting them up on a date.
10 votes: A Speck in the Sea by Jeff Pope
Based on the article "A Speck in the Sea" by Paul Tough. The true story of the rescue of lobster fisherman John Aldridge who fell into the ocean in the middle of the night on July 24th, forty miles off Montauk with no life vest and no way to signal where he was.
10 votes: Untitled Sociopath Project by Topher Rhys-Lawrence
A successful New Yorker's seemingly perfect life starts unraveling once he's suspected for the murder of his co-worker, and his only alibi is the doppelganger that's begun stalking him
9 votes: Ares by Geneva Robertson-Dworet
The survival story of an astronaut whose space capsule crash lands in the African desert and whose mission to space was part of a larger conspiracy.
9 votes: Final Journey by Michael Lee Barlin
A mistreated elderly Inuit (Eskimo) woman is forced out of her village to survive alone on the savage arctic tundra.
9 votes: Militia by Henry Dunham
After a shooting at a police funeral by a suspected militia member, a recluse ex-cop and fellow militia man must interrogate the suspected gunmen in his own militia before copycat attacks start a nationwide war between cops and militias.
9 votes: Salem by Mark Bianculli and Jeff Richard
Fifteen years after the witch trials, the scars of Salem are reopened when young women begin showing up dead. Desperate for answers, the town elders turn to a man of science to uncover the truth behind its terrifying events plaguing their community.
9 votes: Tomorrow on the Runway by Frederick Seton
Kermit St. Lucy has a ridiculous name and is ridiculously ill-equipped to deal with adult responsibilities. After a tragedy shakes him to his essence, Kermit takes it upon himself to look after and raise two young children.
9 votes: Treasure Island by James Coyne
Based on the Robert Louis Stevenson classic, young Jim Hawkins finds a map to a buried fortune; to claim it means a perilous voyage, pirate treachery, and the wicked mentorship of Long John Silver.
9 votes: Untitled Larry Hillblom Project by Matt Portenoy
The strange-yet-true story of the battle over the estate of Larry Lee Hillblom, billionaire founder of DHL.
8 votes: An African Western by Chloe Castellon and Ridgeway Wilson
When a young African woman's village is destroyed by a "Christian" paramilitary unit and her sister is kidnapped, she uses every weapon at her disposal on an odyssey to save her last living relative.
8 votes: Atlantic Wall by Zach Dean
A lone American paratrooper stranded behind enemy lines hours before D-Day, is tasked with delivering intelligence critical to the outcome of the war and compelled to fulfill a promise to protect the young son of a murdered ally.
8 votes: Bed Rest by Lori Evans Taylor
An expectant mother who is con ned to bed rest starts to experience paranormal events.
8 votes: I Believe in America by Terry Clyne
A behind-the-scenes look at the making of THE GODFATHER, revealing the creative forces behind one of the nest American films ever made were all as cunning and ruthless as the mobsters portrayed in Mario Puzo's bestseller.
8 votes: Ida Tarbell by Mark McDevitt
Ida Tarbell's magazine series "The History of the Standard Oil Company," would not only change the history of journalism, but also the fate of Rockefeller's empire, shaken by the powerful pen of its most implacable observer.
8 votes: A Life Fantastic by Natalie Antoci
A single mother with a terminal diagnosis embarks on a road trip with her eccentric nine-year-old son and nanny to find a loving and progressive family that will accept him for whoever he may grow up to be.
8 votes: Lou by Maggie McGowan Cohn
An elderly woman who hacks out a rough existence on a remote island is forced to help her dimwitted neighbor rescue her daughter from her ex who has kidnapped her and run off into the woods.
8 votes: Preconception by Jake Morse and Scott Wolman
A couple on the verge of parenthood embarks on a pre-baby bucket list.
8 votes: Senior Year by Andrew Knauer and Arthur Pielli
A cheerleader wakes up after a twenty year coma and returns to sit at the cool table and try to become prom queen, as a thirty seven year-old woman.
8 votes: Verona by Neil Widener and Gavin James
A re-imagining of Shakespeare's Romeo and Juliet.
7 votes: 105 and Rising by Andrew Cypiot
Amid the chaos of a failing nation on April 29, 1975, the objective was clear: safely evacuate all remaining Americans from Saigon. But to Major Jim Kean and Ambassador Graham Martin, the moment represented something else: the final opportunity to uphold promises and obligations to the people of South Vietnam.
7 votes: The Boy by Owen Egerton
Sixteen years after stabbing a classmate to appease a legendary phantom known as the Boy, a repentant woman returns to her hometown to live with her sister and nephew. But as the Boy continues to haunt her she must face her deepest terror and discover the truth about the Boy before he claims her nephew.
7 votes: Free Agent by Sam Regnier
A female NBA executive for the Golden State Warriors pursues the biggest free agent of her career while managing a messy divorce and a complicated relationship with a younger colleague and his teenage sister.
7 votes: Homegrown by Jacques Edeline
A teenage boy, raised in total seclusion and indoctrinated by his enigmatic father, is sent to live with a foster family and enrolled in a public high school when his father is incarcerated, threatening their relationship and causing the boy to question everything he's learned.
6 votes: The Canyon by Alex Koplow
When parents reunite with their grown children for a road trip to hike the Grand Canyon, the family conflicts on the way prove far more grueling than the twenty mile hike.
6 votes: Carnival by Matias Caruso
A deadly carnival knife-thrower hunts down the members of a powerful crime syndicate who murdered his sister.
6 votes: Crook County by Gita Pullapilly and Aron Gaudet
A whistleblower's harrowing journey into an undercover FBI operation in 1980's Cook County, Illinois, sending him toe-to-toe with corrupt judges, hustling defense attorneys, and Chicago mobsters; and ultimately resulting in the largest number of convictions of government officials in the history of the United States.
6 votes: Damsel by Bryan McMullin
After first being locked up in a tower and then hidden deep in the forest to prevent a prince from rescuing her, long-haired Rapunzel vows to get revenge.
6 votes: Francis and the Godfather by Andrew Farotte
Facing financial ruin, auteur filmmaker Francis Ford Coppola is forced to direct the adaptation of Mario Puzo's pulp novel The Godfather, pitting him against legendary mega-producer Robert Evans in this comedy about art versus commerce.
6 votes: Green River Killer by Michael Sheen
Based on the Eisner Award winning graphic novel of the same name. The story follows the detectives in the Green River Killer case as they attempt to unravel not only the facts behind the gruesome series of murders that plagued the Paci c North West for over a decade, but also the psychosis of the killer they now find themselves face to face with.
6 votes: Landslide by Will Staples and Tony Camerino
Based on the book How to Break a Terrorist by Tony Camerino. The story of America's search for terrorist Abu Musab al-Zarqawi, and the man who played a key role in tracking him down by using psychological warfare.
6 votes: Resurface by Pete Bridges
An underwater earthquake decimates a research crew working at the bottom of the Mariana Trench, leaving two survivors with limited resources to ascend 35,000 feet and reach the surface before their life support runs out.
6 votes: Songs of Treblinka by Viorica Blan
Based on a true story. A renowned Jewish conductor plots a revolt with fellow prisoners as he attracts the respect of his Nazi captors in Poland's most notorious death camp.
6 votes: Three Months by Jared Frieder
After being exposed to HIV the weekend of his high school graduation in 2011, a punk gay teenager from Miami attempts to start a new relationship with a someone from his support group as they try to endure the three months it takes to get accurately tested.
6 votes: Wish Upon by Barbara Marshall
When sixteen-year-old misfit Claire finds a magic box that promises a chance at the life she has always wanted, she never could have guessed that each wish would demand a deadly payment.