Yas Queen: Hillary Clinton To Guest Star On 'Broad City'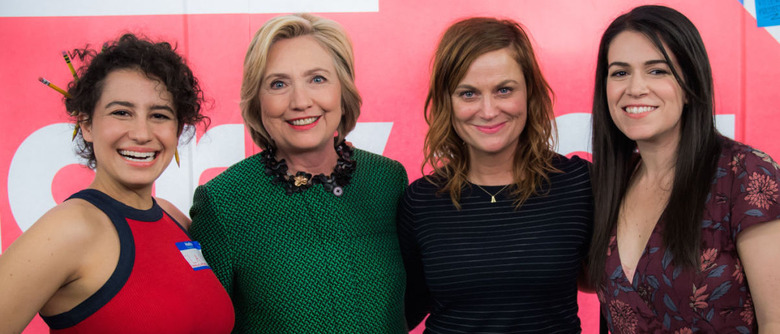 Broad City has had some pretty fantastic guest stars over the past two seasons. Amy Poehler, Seth Rogen, Amy Ryan, Patricia Clarkson... the list goes on and on. But Season 3 will feature the show's most famous guest star yet.
Hillary Clinton is set to appear in an upcoming episode of the Comedy Central series, and the potential 2016 presidential nominee has just announced the news in a most Broad City-like way. See a behind-the-scenes image from the Hillary Clinton Broad City episode after the jump. 
Clinton dropped the big news on Twitter with an Ilana-worthy "yas." (No "queen," though; we live in a democracy.)
On the set of @broadcity season 3 with @abbijacobson, @ilazer and Amy! #yas pic.twitter.com/KYOAWDSshK

— Hillary Clinton (@HillaryClinton) December 11, 2015
The real Ilana, series co-creator and co-star Ilana Glazer, was equally excited.
Comedy Central announced the Hillary Clinton Broad City cameo via press release, and even offered a photo of Clinton on set with Glazer and co-creator / co-star Abbi Jacobson.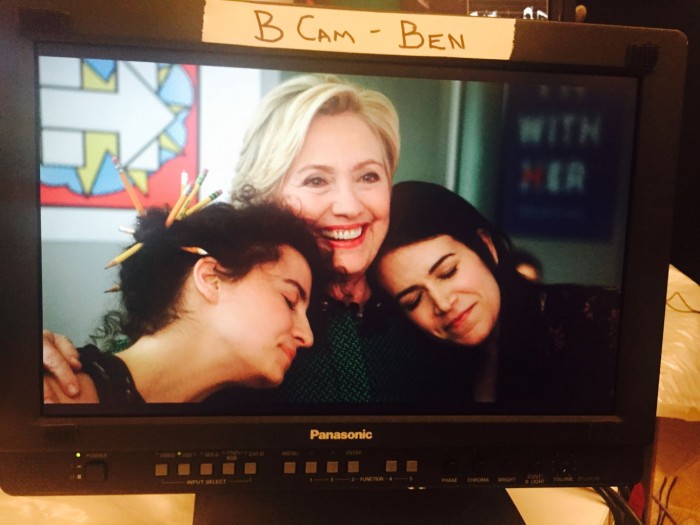 Guess we know who's getting their vote. Although I could see Ilana switching allegiances to Bernie Sanders at the last minute, can't you?
This isn't Clinton's first time trying her hand at comedy, or even her first time this year. Back in October, she showed up on Saturday Night Live as a bartender serving, well, Hillary Clinton — played here by Kate McKinnon.
Interesting that Clinton's bartender is called Val. Could Saturday Night Live's Val and Broad City's Val be one and the same? Are we seeing the beginnings of an entire shared universe here??
(... I mean, probably not. Definitely not. But I'll take any excuse to post that amazing Broad City clip.)
Broad City is executive produced by Amy Poehler, who kind of has a history of booking political guest stars. Remember the time Leslie Knope's #1 crush Joe Biden popped by on Parks & Recreation?
He was pretty smooth, as far as politician cameos go. Clinton's gonna have a high bar to clear when she shows up on Broad City. But hey, she can't possibly do worse than Donald Trump's recent Saturday Night Live hosting stint, right?
Broad City Season 3 premieres Wednesday, February 17 at 10 PM.