Force Awakens Bits: Adam Driver Says It's Better Than Prequels, Spielberg Recommended J.J., Deleted Scenes & More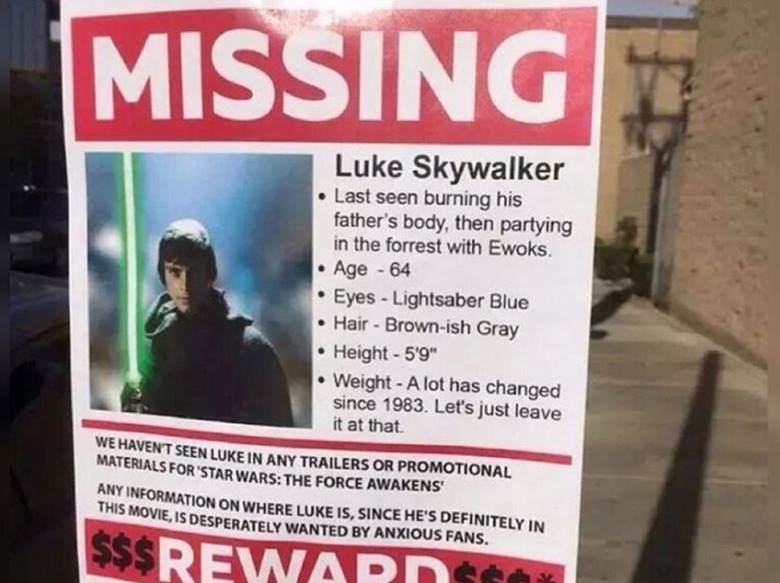 The week has finally come, a new Star Wars film will hit movie theaters in just a few days. The world premiere of Star Wars: The Force Awakens takes place tonight in Hollywood, and the first reactions are probably coming shortly after that. I'm extremely fortunate to be attending the premiere tonight and am so excited. I will give you my reaction afterwards on twitter (non-spoiler of course, followed by more in-depth review on the site later in the week). Okay, lets take a look at the latest Star Wars: The Force Awakens news and tidbits:
Steven Spielberg recommended that Disney hire J.J. Abrams for Force Awakens.
Adam Driver's response to the question of if Force Awakens will be better than the prequels.
See new behind the scenes photos featuring Daisy Ridley and John Boyega.
Find out how Jakku market merchant Bobbajo was created
Learn more about Andy Serkis' character Supreme Leader Snoke
How the Force Awakens world premiere in Hollywood is "bigger than the Oscars"
Is Force Awakens about Star Wars fandom and is Kylo Ren just a huge Star Wars geek?
J.J. Abrams designed Rey's outfit so that it would be simple enough that kids could doodle it in class
Preview some of the limited edition "Galaxy Premiere" merchandise which will be sold in select theaters
John Boyega talks Force Awakens deleted scenes
Watch BB-8 explore London.
All this and more in today's Force Awakens Bits. Alright Chewie, Punch it! Hit the jump for hyperspace!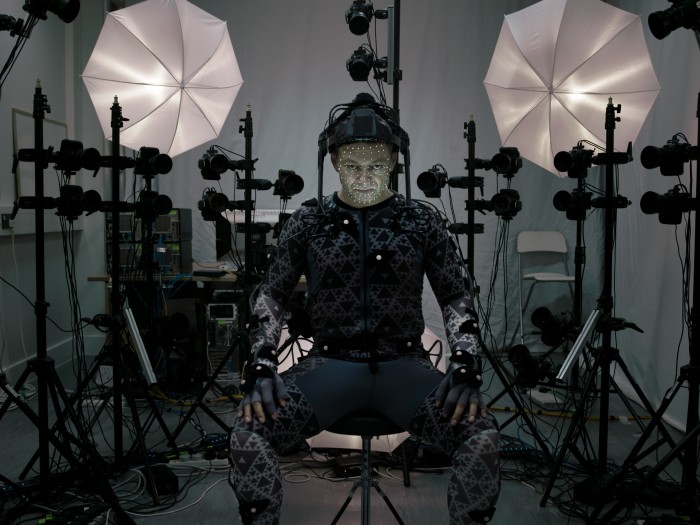 More Info on Andy Serkis' Character Supreme Leader Snoke
The latest issue of People Magazine reveals some new details about the mysterious character played by Andy Serkis. Skip the following if you don't want to know anything more about his character. Here are some takeaways:
Cinematographer Daniel Mindel shot on set with Serkis and Adam Driver as Kylo Ren: "It's not a complete green-screen environment, therefore, we have atmosphere. We have texture that we're putting [Snoke] into, that is physical. Sometimes, from the outside it would seem absurd to just walk in and look at how we do that. On the other hand, there's a great amount of method to it. In that particular theme, we had Andy Serkis interacting with Adam. Andy himself brought a massive amount to the scene."
Costume designer Michael Kaplan created Snoke's outfit (as well as the costume for the film's other big CGI character Maz Kanata): "Even though they were to be CGI, there were initial costume sketches and then actual costumes were built. This helps the CGI technicians realize their final effect and know precisely how the fabrics will move."
Serkis also reveals that Snoke "has a very distinctive, idiosyncratic bone and facial structure."
Crews setting up tent on Hollywood Blvd for #StarWars #ForceAwakens premiere between Highland & Orange. @KNX1070 pic.twitter.com/Pm1OLXxp5X

— Thom Tran (@ThomTranKNX) December 11, 2015
The Force Awakens World Premiere Is Bigger Than the Oscars
As I mentioned earlier, the Star Wars: The Force Awakens premiere is tonight in Hollywood. Above you can see a photo from Friday of the four blocks of Hollywood Blvd., from Highland Ave. to La Brea Ave., which were already closed for the big event. A production manager told THR that "This is definitely bigger than the Oscars."
Disney and Lucasfilm have not officially told guests which theaters will be used in Hollywood for the premiere. The blocks of Hollywood Blvd. that are closed include three: The Dolby (where the Oscars are held), El Capitan Theater and the TCL Chinese Theater.
The Mysteries of Bobbajo
Entertainment Weekly's Anthony Breznican has released a new video talking about the secrets behind Jakku market merchant Bobbajo, who was the first alien we saw from the new film. The video reveals how Bobbajo was created and how he is puppeteered.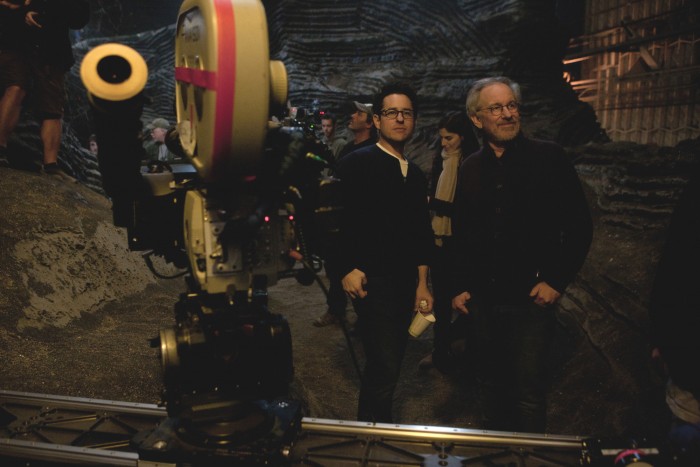 Steven Spielberg Recommended That Disney Hire J.J. Abrams
Another thing 60 Minutes confirmed is that The Force Awakens director J.J. Abrams was recommended for the job by long-time Kathleen Kennedy collaborator Steven Spielberg:
Steven Spielberg told CBS newsmag 60 Minutes that when producer Kathy Kennedy was looking for a director for Star Wars: The Force Awakens, she happened to speak with him. Spielberg, who worked with Kennedy on E.T. The Extra-Terrestrial, Jurassic Park and other films, told her, "Kathy, there's only one director that really should undertake this daunting, epic task, and that's J.J. Abrams."
Remember, rumor had it that Kathleen Kennedy asked Steven Spielberg if he wanted to direct.
Adam Driver Answers If The Force Awakens Is Better Than the Prequels
Vice ran a segment following Star Wars: The Force Awakens co-star Adam Driver (who plays villain Kylo Ren) who along with some other actors (Joanne Tucker, Natasha Lyonne, and Peter Scolari) traveled to the Middle East in order to bring some entertainment to soldiers. During the clip a soldier asks drivers if the new Star Wars movie will be better than the Star Wars prequels, to which Driver covers the camera and can heard saying "fuck yeah!". Watch the video clip embedded above.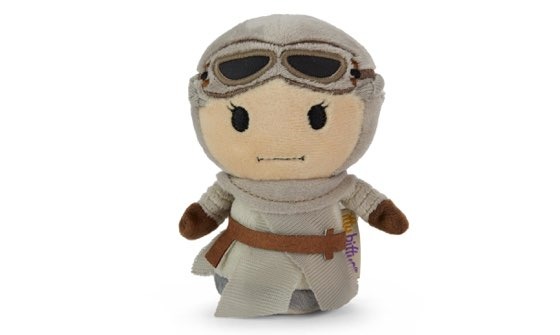 J.J. Abrams Gave Rey an Outfit That Kids Could Doodle in Class
Vulture talked to Force Awakens star Daisy Ridley about the toys made of her character Rey. An interesting aside in the piece reveals some of the thought that went behind Rey's costume design:
It's no surprise to her that Rey's wrap costume scales down so well, since director J.J. Abrams prioritized a striking, iconic look in his collaboration with costume designer Michael Kaplan. "I remember J.J. saying that he wanted the sort of outfit kids could sketch," said Ridley. "He wanted something they'd be able to doodle in class, with things that would stand out to them."
Limited Edition "Galaxy Premiere" Merchandise to Be Sold in Select Theaters
Back when Star Wars: A New Hope was released, movie theaters sold souvenir booklets. Disney will be offering a variety of lobby-exclusive merchandise for Star Wars: The Force Awakens, including, t-shirts, hats, posters keychains, hoodies and tickets in select theaters for a limited time. See all of the items which will be available on Yahoo.
New Behind-the-Scenes Photos
Some new behind the scenes photos from the Jakku set of Star Wars: The Force Awakens have hit twitter. The photos feature Daisy Ridley and John Boyega getting ready for filming.
John Boyega and J.J. Abrams on Force Awakens Deleted Scenes
Finally, Collider talked to star John Boyega and filmmaker J.J. Abrams about the film's deleted scenes. You can watch the whole interviews above.
J.J. Abrams says the length of the first cut of the film was about two hours and 30-something minutes. The final film is about twenty minutes shorter. Abrams says there was probably a dozen deleted scenes from the film, making up ten to twenty minutes, which will probably be released on the DVD/Blu-ray.
Boyega begins talking about the deleted scenes at the end of the video (around 3:15). Boyega says that the film didn't have many deleted scenes as far as he is concerns, claiming J.J. Abrams just cut little snippets/little beats here and there.

Is Force Awakens About Star Wars Fandom?
MovieWeb talked to John Boyega, and pitched him their idea that Force Awakens villain Kylo Ren is just a really big Star Wars nerd. Not any real info here, but a fun theory and I loved the exchange. Here is an excerpt from the interview:
The movie, to me, seems to be focused on this idea of geek culture and memorabilia collecting. Here's this guy, Kylo Ren. He's trying to collect this coveted object. You don't know what it is. But once you learn, you want to be a part of this world too. Now you must own the most wanted collectable in the galaxy. Is that basically the story we're getting in the movie?
John Boyega: Yes. That's actually quite true. I never thought about it like that. But that's a cool idea. I agree with that. You have these friends. Everybody has to make a choice. They have to pick a side. This is actually a lot about what the characters have to do in this story. That's what makes it so interesting.
The object Kylo is hunting is the lightsaber. I mean, tell me the truth...He's the villain, but Kylo Ren is kind of a big nerd too. Right?
John Boyega: Yes. That's right. Kylo Ren is basically the biggest Star Wars fans there has ever been. And he is just trying to protect his best interests. He definitely feels like he might be a nerd. One that is slightly misguided. And it feels like he is socially awkward. It does feel like that, too. I would only wear a mask like that if I was a little afraid of people.