Ron Howard Has A Minor Update On 'Arrested Development' Season 5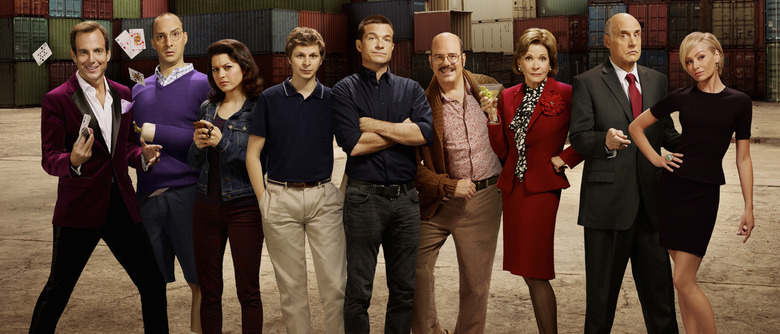 The second we finished binge-watching Arrested Development Season 4, we started clamoring for Arrested Development Season 5. Two and a half years later, we're still waiting. But it is coming, assures Ron Howard. The executive producer gave a tiny little update on the long-awaited next season in a recent interview. Find out what he had to say after the jump. 
Howard touched upon Arrested Development Season 5 during a stop by Good Morning America (via Deadline) to promote In the Heart of the Sea. "Well, Mitch Hurwitz, the creator of the show, is working with writers now," he revealed. "Netflix is behind it, 20th Century Fox is behind it."
The fact that Hurwitz is actively working with writers seems like an encouraging sign. Still, Howard shied away from saying anything too definitive. He continued:
It's hopeful. What has happened is that the cast has become so freakin' in demand and busy. Everyone wants to do it. Fans want it. I would be saddened if we didn't achieve it. I'm the announcer and the narrator, and I have to get back to that microphone.
Previously, executive producer Brian Grazer stated that "another 17 episodes" of Arrested Development were coming from Netflix — a step up from Season 4, which had 15 episodes. In June, Grazer offered a vague timeline for the show's production and release:
Well, I had a conversation with Fox today, this morning. Netflix is determined to do more episodes, so we're gonna do more episodes. We're going to do it [at] the turn of the year. January, February we're gonna start it. [...] Mitch Hurwitz, who I just called while I was sitting out there in your beautiful waiting room. [...] I made the call to Mitch to say everybody's into it.
Grazer added that he expected the episodes to hit Netflix about four months after production began. However, it's unclear if that's still the plan. Netflix still hasn't officially announced Arrested Development Season 5, which suggests they're still working out all the various deals and schedules, and January is just a few short weeks away.
But hey, there was a time when we never, ever thought we'd get an Arrested Development Season 4, and that happened. So in the meantime, just try and stay patient. Might we make a suggestion as to how you might occupy yourself in the meantime?