How J.J. Abrams And Rian Johnson Collaborated To Create The Future Of Star Wars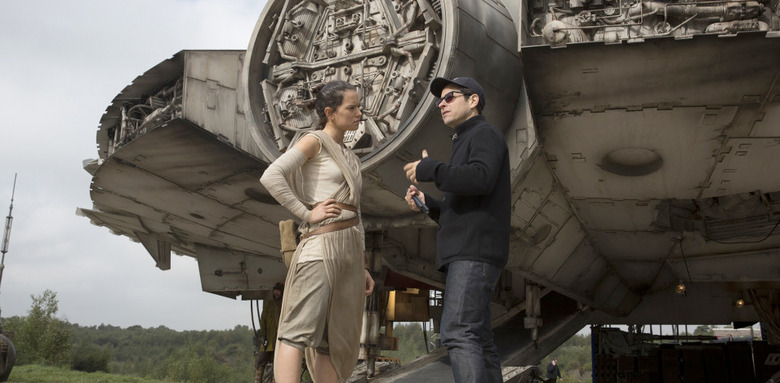 Star Wars: The Force Awakens is not just a movie, but the beginning of a new trilogy of films. How does a filmmaker like J.J. Abrams balance worrying about this film versus setting up ideas and characters for the rest of the arc? Did he create a treatment for the sequel trilogy with Lawrence Kasdan and Michael Arndt? Did he work with Episode VIII writer/director Rian Johnson and Episode IX helmer Colin Trevorrow?
At the Star Wars: The Force Awakens press junket, I sat down with Lucasfilm head Kathleen Kennedy and Force Awakens director J.J. Abrams to learn how the future of the Star Wars saga is being created.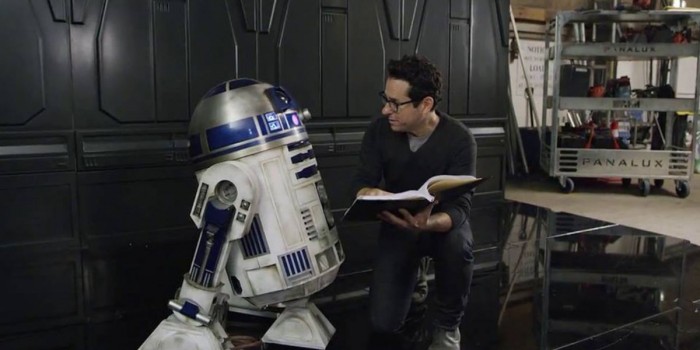 Obviously The Force Awakens is the number one priority for Disney and Lucasfilm, but they also must be planning for the announced sequel trilogy. I asked Lucasfilm head Kathleen Kennedy if a treatment had been written for Episodes VIII and IX and here is what she said:
No, because at that point we were sitting down and talking about where this might go, even as early on as with Michael Arndt. We were sort of plotting out, because obviously if you know up front that you're building the pacing inside a trilogy structure, we needed to have some sense of where this saga was going without locking in on things and leaving room for creative development. But we had to have some sense of where we were going.
Director Abrams explained the process a bit further:
We don't write a treatment but there are countless times we came up with something and said "oh, this would be so great for Episode VIII!" or "Thats what we could get to in IX!" It was just that kind of forward moving story. But we knew this had to neither be a backwards moving nostalgic trip only nor a beginning of a movie without a satisfying conclusion, and that was part of the balancing act — embracing what we have inherited and using that where and whenever possible to tell a story that hasn't been seen yet. We also knew that certain things were inevitable in our minds but that didn't mean it would be inevitable for whoever came in next.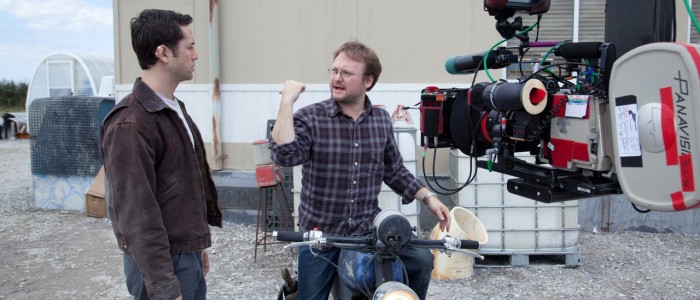 Speaking of "whoever came in next," Lucasfilm head Kathleen Kennedy reminds me that Brick/Looper helmer Rian Johnson "started working on the script for Episode 8 a year and a half ago" and "he's been in prep for a year" with the shoot scheduled to begin at the end of January 2016:
So we need to be working a couple of years out in front of, at least in terms of the script, in front of these start dates.
Kennedy says that Rian came in "very early and he read, and came and visited the set," but how involved was Rian in The Force Awakens?
J.J. and him had a lot of conversations.
Find out more about the collaboration between JJ Abrams and Rian Johnson, after the jump.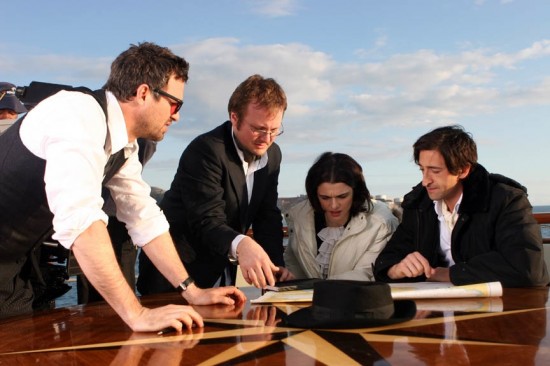 Abrams elaborates and praises Johnson's screenplay for the next installment:
When Rian who I admire enormously and adore, came on board, we met and talked with him about all the things we were working on and playing with, and he as a spectacular writer and director has taken those things and has written an AMAZING script that I think will be an incredible next chapter, some of which incorporating things we were thinking of and other things are things we could never of dreamed of.
Does Rian Johnson read the Force Awakens script and give notes, suggesting changes or additions for things he maybe wants to seed early for his film? Abrams says the process was somewhat collaborative:
There were a handful of things we talked about that were going to be helpful to him. Some were very easy to do, and some things were things that I didn't want to do for other reasons, but I tried to be as accommodating as I could. And its so cool to see what happens next in a way that only someone as talented as Rian could do.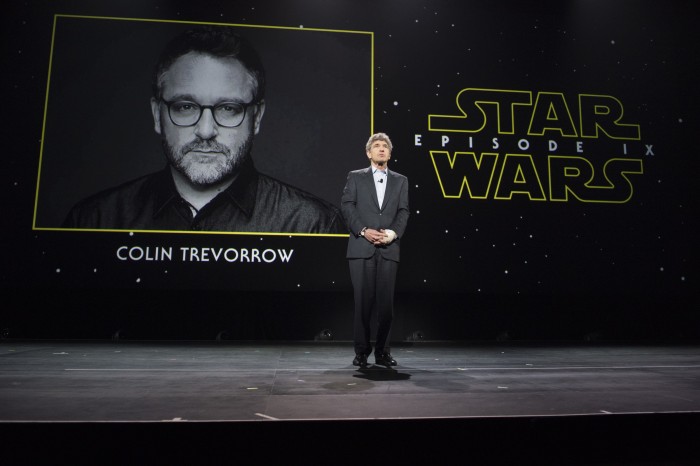 Kennedy admits that Jurassic World helmer Colin Trevorrow will probably end up having a more involved collaboration with Rian Johnson:
I think Colin [Trevorrow] will end up doing more of that more-so with Rian as he develops Episode IX.
This makes sense as Trevorrow is coming in to direct the conclusion of this new sequel trilogy, and it's essentially a third act of the story structured by Abrams and Johnson. As for JJ Abrams' involvement in the future of the franchise, Kennedy told me:
His involvement on VIII and IX will really just be an executive producer, and really just to continue the storytelling.
Star Wars: The Force Awakens hits theaters on December 18th.