Sam Esmail Will Direct Every Episode Of 'Mr. Robot' Season Two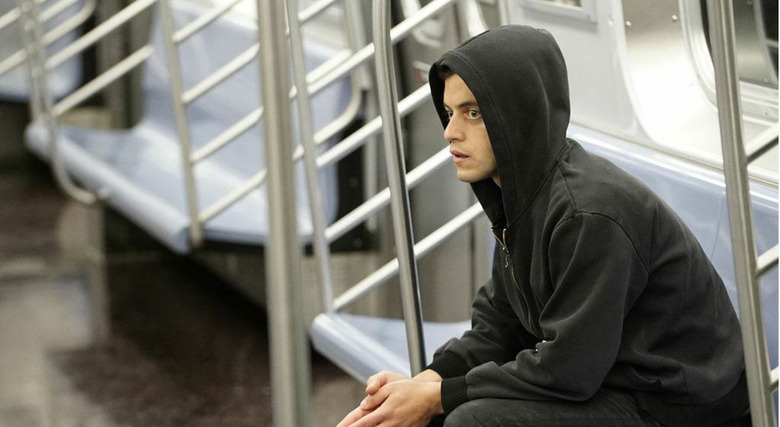 USA's Mr. Robot is one of the year's most pleasant surprises. While some called the drama derivative, it went on to find its own identity. The show came close to greatness, and it left the door open for more drama and higher stakes. The big brains behind the operation, show creator Sam Esmail, may direct every episode of the sophomore season.
Learn more about Mr. Robot season two after the jump.
Variety reports Esmail plans on directing every episode of the next chapter, following in the footsteps of Cary Fukunaga (True Detective season one) and Steven Soderbergh (The Knick). If USA gives Esmail the go-ahead, then they'll be expressing a huge sign of confidence in the writer-director — which he's earned after delivering a critically acclaimed and successful first season. The showrunner did a fine job on the three episodes he directed, and he's also proven himself as a capable feature film director, with his little-seen gem Comet (watch it on Netflix Instant now).
We already know a little bit about the next season of Mr. Robot. A few months ago Peter compiled a list of quotes from the New York Comic Con panel, detailing what's in store for season two.
Here's what fans can expect to see next summer:
"Esmail promises that the second season will 'get really f***ing dark,' which is a crazy claim considering how dark the first season already was. Elliot actor Rami Malek said that Esmail has already warned him that tackling the second season is 'gonna be tough,' something that he never said when making the first season. We can only speculate what "really f***ing dark" means at this point, but I'm guessing it will be crazy."
"Christian Slater will return for season 2 reprising his role as Mr. Robot aka Edward Alderson. Yes, season one saw the character revealed as Elliot's long dead father, now a figment of his son's troubled mind, but it looks like Mr. Robot will return somehow. This could either be accomplished through flashbacks or Elliott might still be seeing his alter ego show up regardless of now being aware that he is not real."
"We should learn more about Elliot's relationship with his sister and follow fsociety member Darlene, and how that relationship fits in with the origins of the now infamous hacker group society."
"We should learn what happened to Elliot during the three days when the hack was being executed, which should answer some questions we have. Series creator Sam Esmail has said that there is a different world that Elliot enters when the season starts and that it was this canvas that he really wanted to explore. He really wanted to explore the idea of what would happen if Elliot was able to set the world in chaos."
Best of all? We'll see more of Tyrell Wellick's (Martin Wallstrom) wife, Joanna (Stephanie Corneliussen), in season two. The Lady Macbeth-type is an unforgettable presence in season one, but she remains a mystery. Esmail promises we'll "see her rise."
Mr. Robot season two should debut next summer.