'X-Men: Apocalypse': New Poster Revealed, Trailer Coming Tomorrow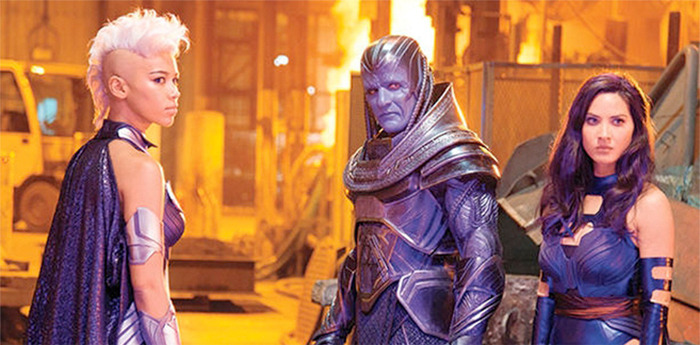 The first X-Men: Apocalypse trailer has already been confirmed to hit with Star Wars: The Force Awakens. But 'tis the season for giving, and the folks at 20th Century Fox are feeling generous. So they're dropping it almost a full week early. You look for it to go up online sometime tomorrow, and you can bet we'll have it here the moment it drops.
And that's not all. To get you pumped up, they've also unveiled a new X-Men: Apocalypse poster, which hints some of the destruction to come. See the X-Men: Apocalypse poster, and get X-Men: Apocalypse trailer details, after the jump. 
The X-Men: Apocalypse poster arrived on the film's official Twitter account. It's a motion poster, which means the red parts glow. As the announcement says, fans should keep an eye on YouTube for the first trailer tomorrow.
Tune in tomorrow for the #XMen: #Apocalypse trailer. Be the first to watch it on https://t.co/FdFZxM4TOv pic.twitter.com/dl1iWHbqCR

— X-Men Movies (@XMenMovies) December 10, 2015
Director Bryan Singer has previously offered a teensy bit of what to expect in the X-Men: Apocalypse trailer...
Finishing up the first teaser. #xmen #xmenapocalypse
A photo posted by Bryan Singer (@bryanjaysinger) on
... but if you want an even better idea, maybe check out our footage recap from Comic-Con. We don't know for sure what the new X-Men: Apocalypse trailer will look like, but we wouldn't be surprised to see some of that old footage recycled.
X-Men: Apocalypse brings back James McAvoy as Professor X, Michael Fassbender as Magneto, Jennifer Lawrence as Mystique,  Nicholas Hoult as Beast, Evan Peters as Quicksilver, Lucas Till as Havok, Rose Byrne as Moira MacTaggert, and Hugh Jackman as Wolverine.
New characters include Oscar Isaac as Apocalypse, Tye Sheridan as Cyclops, Sophie Turner as Jean Grey, Alexandra Shipp as Storm, Kodi Smit-McPhee as Nightcrawler, Lana Condor as Jubilee, Ben Hardy as Angel, and Olivia Munn as Psylocke.
Fox has X-Men: Apocalypse in theaters May 27, 2016.
Since the dawn of civilization, he was worshiped as a god. Apocalypse, the first and most powerful mutant from Marvel's X-Men universe, amassed the powers of many other mutants, becoming immortal and invincible. Upon awakening after thousands of years, he is disillusioned with the world as he finds it and recruits a team of powerful mutants, including a disheartened Magneto (Michael Fassbender), to cleanse mankind and create a new world order, over which he will reign. As the fate of the Earth hangs in the balance, Raven (Jennifer Lawrence) with the help of Professor X (James McAvoy) must lead a team of young X-Men to stop their greatest nemesis and save mankind from complete destruction.