Steve Nash Is Producing A "Pistol" Pete Maravich Biopic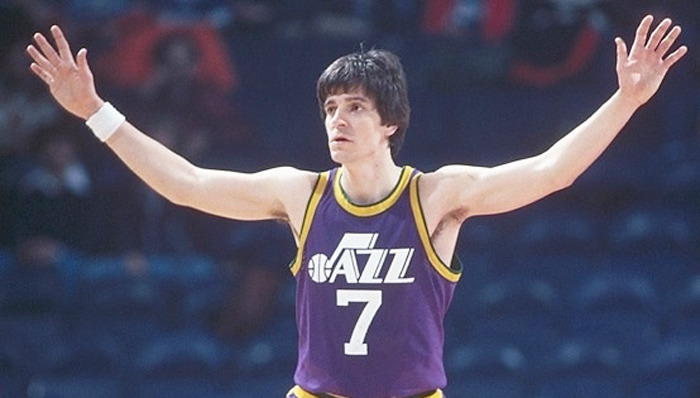 There haven't been too many movies made about basketball players. But there are more than a handful of players whose lives would transition well to the big screen, including "Pistol" Pete Maravich, a legendary college ballplayer. Earlier this year NBA player Steve Nash announced his retirement from the NBA, ending his career with the Los Angeles Lakers, and Nash next plans on producing a film based on Maravich.
Learn more about the Pistol Pete biopic after the jump.
Pistol Pete played basketball at Louisiana State University. His father was the team's coach, and the two had a complicated relationship. During Pistol Pete's time at LSU, he averaged 44.2 points a game. Even if you don't really follow the game, you know that's quite a feat. By the time he left college, Pistol Pete scored a total of 3,667 points.
The Wrap broke the news of the biopic. Steve Nash had this to say:
Pete is one of my favorite players of all time. I truly admired him and wanted to be more like him. I think we have a great team in place to tell his story in a genuine and heartfelt way that would give this legend the spotlight he deserves and tell a younger generation all about the genius he was.
As The Wrap points out, Pistol Pete's career in the NBA was fraught with drama. The player suffered from injuries, personal demons and losses — including a battle with alcoholism and the tragic loss of his mother. Maravich later went on to find God, after once building underground bomb shelters. After reconnecting with his father, the player died when he was only 40 years old.
The film will begin principal photography next year in Louisiana. Nash, who co-directed an episode of ESPN's fantastic 30 for 30 series, is producing alongside director Brett Rapkin. Rapkin recently wrapped shooting on another bio film, Spaceman, the story of Montreal Expos' pitcher Bill "Spaceman" Lee. The filmmaker was the one to option the rights of Maravich's life story, and he will also write the screenplay for the biopic.
There's actually already been a film about Pistol Pete Maravich. It was a 1991 TV movie — which my brother used to make me watch again and again. It's been years since I've seen it, but if this trailer is any indication, Nash and Rapkin aren't treading over sacred ground by making another film about Maravich.
Here's the trailer for The Pistol: Birth of a Legend: