The Romantic 'Hannibal' Finale Explained By Cast And Creators; Fuller Still Hopes For The Show's Return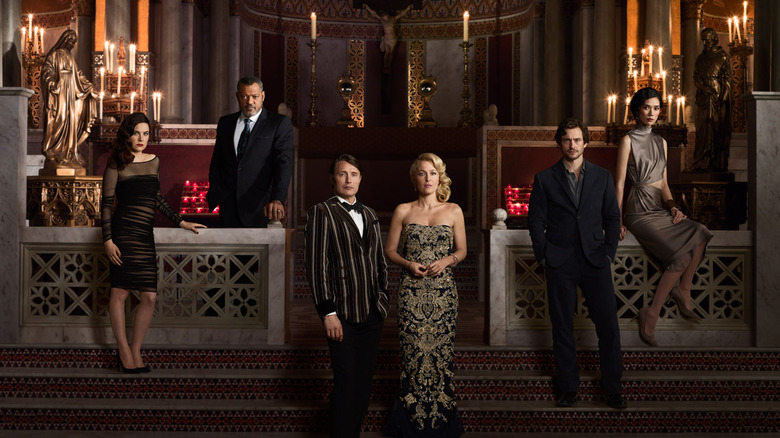 The Hannibal finale is incredibly satisfying. NBC's surreal, dark show never scored huge in the ratings, but it's a miracle a story this ambitious lasted three seasons, and thankfully it ended on a high note, with Will Graham (Hugh Dancy) and Dr. Hannibal Lecter (Mads Mikkelsen) finally getting some much needed alone time.
After the jump, the cast and crew explain the Hannibal finale.
It should go without saying, but if you haven't finished season three of the show yet, then you should stop reading now. The final episode ended with Graham and Lecter taking on the Red Dragon/Francis Dolarhyde, as Siouxsie Sioux of Siouxsie and the Banshees sang a stirring and original tune, aptly titled "Love Crime."
The episode ends with the two very, very close friends embracing each other, before they fall off a cliff together. Whether they live or die isn't so important; what matters is they were honest with each other and finally got what they both desperately wanted.
EW released a behind-the-scenes look at the ending. Here's what the actors and creators of the show had to say:
Show creator Bryan Fuller describes this moment as Graham's "end of humanity," and it'd be interesting to see how the character would cope with the aftermath of this decision. Fuller has discussed finding a new home for the series or continuing the story as a movie, and and he hasn't given up on that hope. At a dinner to celebrate the release of season three on Blu-Ray, Fuller told Birth.Movies.Death. his dream for Hannibal's return hasn't changed:
Martha [De Laurentiis] and I keep talking... I would love to let the show lie low for a few years, treat it like Sherlock on BBC. And then relaunch with Hannibal: Silence of the Lambs.
As Birth.Movies.Death. points out, MGM owns the rights to Silence of the Lambs. Fuller always envisioned Clarice Starling joining the show sooner or later, and if that does ever happen, they'd approach it like the Red Dragon story:
Silence of the Lambs is a perfect film, there's not going to be a better film. And MGM feels the same way. So we would do it the same way we did Red Dragon... we'd flash back to him finding out about Jame Gumb.
Jame Gumb is, of course, Buffalo Bill. More of Hannibal would be a dream, but imagine how exciting another season would be if Lee Pace (Pushing Daisies) played Buffalo Bill. Fuller has expressed interest in working with the actor again, and if another season or a movie comes to fruition, Pace as Buffalo Bill is something I bet fans of Hannibal and Pushing Daisies would like to see.
Hannibal season three is now available on DVD and Blu-Ray.