'13 Hours' Posters Tease Intense Dramatic Patriotic Thriller

On Veterans Day, I was invited to Paramount Pictures to preview 25 minutes of footage from Michael Bay's new film 13 Hours, followed by a post-screening reception with Bay, producer Erwin Stiff, and the real-life heroes portrayed in the film: Mark 'Oz' Geist and John 'Tig' Tiegan. What I saw from the film was unlike any Michael Bay film I've seen before. Sure, the footage was everything we expect from Bay: explosive, intense and beautifully cinematic (yes, you know I'm a fan), but the tone and feel of the story was unlike his previous work: it felt more grounded, more serious. Somehow this contained story based on real-life events about an attack on an American compound in another country felt more epic than giant transforming robot aliens battling it out on Earth. If you haven't yet, watch the trailers for the film here.
After the footage, I was honored to talk to some of the real-life heroes that the movie is based upon. I was taken aback and moved by the stories of these contractors who selflessly put themselves in danger. Tig showed me where pieces of shrapnel went through his body, leaving huge scars. Just hearing his stories made my body hurt and feel like much less of a man.
These guys acted as consultants on the film, and I want to share one story I heard that night: It was about the first meeting they had with director Michael Bay. One of them suggested to Bay that he could maybe squeeze in a T&A shot of his girlfriend getting dressed as his character leaves to go to work at the beginning of the film. Without any hesitation, Bay responded (note: I'm paraphrasing) "This isn't the film for that." The consultant replied, "Good, I was just testing you — I was going to walk right out that door if you agreed." I thought that was funny, yet really telling about this story. It's not your typical Michael Bay movie.
After the jump you can see three new posters for Michael Bay's 13 Hours, which Paramount has given to us to premiere.
Michael Bay's 13 Hours Posters
The film, written by Chuck Hogan, features John Krasinski, Dominic Fumusa, James Badge Dale, Max Martini and Pablo Schreiber. Based on Mitchell Zuckoff's book about "the dual 2012 attacks on American compounds in Libya, the story involves the attack which saw the loss of four American lives and created a political firestorm that continues to burn even after official inquiries have been handed down." The movie follows the team of "security operators" who unsuccessfully attempted to get U.S. Ambassador J. Christopher Stevens out of harm's way even as they did save other American lives.
13 Hours will hit theaters on January 15, 2016.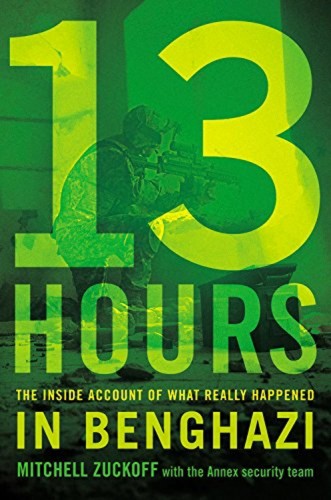 The official description for the 13 Hours book follows:
13 HOURS presents, for the first time ever, the true account of the events of September 11, 2012, when terrorists attacked the US State Department Special Mission Compound and a nearby CIA station called the Annex in Benghazi, Libya. A team of six American security operators fought to repel the attackers and protect the Americans stationed there. Those men went beyond the call of duty, performing extraordinary acts of courage and heroism, to avert tragedy on a much larger scale.
This is their personal account, never before told, of what happened during the thirteen hours of that now-infamous attack. 13 HOURS sets the record straight on what happened during a night that has been shrouded in mystery and controversy. Written by New York Times bestselling author Mitchell Zuckoff, this riveting book takes readers into the action-packed story of heroes who laid their lives on the line for one another, for their countrymen, and for their country. 13 HOURS is a stunning, eye-opening, and intense book–but most importantly, it is the truth. The story of what happened to these men–and what they accomplished–is unforgettable.