Sylvester Stallone Is Definitely Not Involved In That 'Rambo' TV Series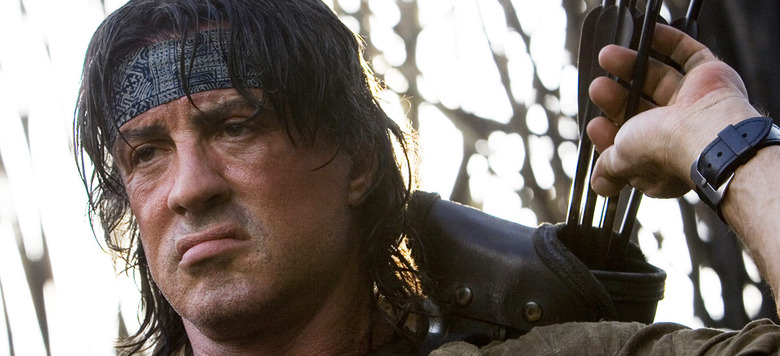 Last week, we got word of a Rambo TV series in the works over at Fox. At the time, /Film writer Jacob Hall snarked that "you should always write Rambo news with dry erase markers" because plans to continue the franchise have been in constant flux over the past several years. Well, break out the erasers: things have indeed changed again.
Despite earlier reports indicating that Sylvester Stallone would executive produce and possibly even reprise his role as John Rambo for the show, Stallone's reps have now gone on the record to clarify that he is not involved with the project "in any way at all." And that, in turn, means the Rambo TV series likely won't be moving forward at Fox after all. 
To recap, the original story was that Fox had closed a deal for Rambo: New Blood, which would follow "the complex relationship between Rambo and his son, J.R., an ex-Navy SEAL." Stallone was expected to executive produce, and possibly even co-star. Basically, it sounded like it was going to be to the Rambo movies what Creed was to the Rocky series — a passing of the torch that allows the franchise to keep burning bright under a new star.
But Stallone's camp has since reached out to Deadline with a correction: "Contrary to reports, Sylvester Stallone has opted not to participate in the planned Rambo television series in any way at all," said a spokesperson. Stallone added, "I wish the others well with the project." But while Stallone isn't actively blocking the project, it's clear his involvement was a huge part of its appeal. Without him, the trade notes, Fox probably won't bother going ahead with Rambo: New Blood.
The Rambo TV series has been in the works for a while. Entertainment One and Nu Image got the ball rolling back in 2013, but even then Stallone's reps were quick to clarify that Stallone would "certainly not" play John Rambo on TV. Plans for a fifth Rambo movie date back even further. As of now, though, it looks like there's no more John Rambo in our immediate horizon.