Luc Besson's 'Valerian' Adds John Goodman And Ethan Hawke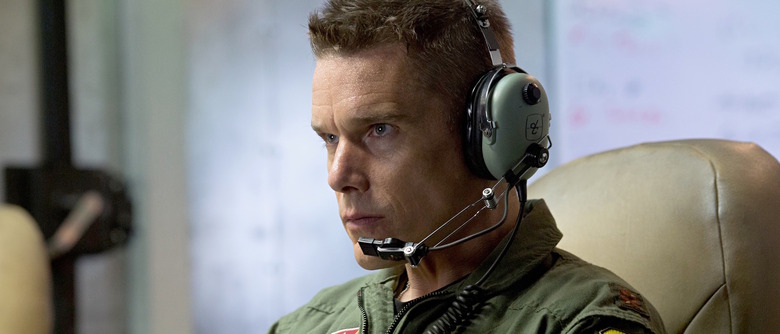 The sci-fi universe of Luc Besson's Valerian and the City of a Thousand Planets just keeps growing. The latest to climb aboard the outer space adventure are Ethan Hawke and John Goodman, who will be joining Dane DeHaan, Cara Delevingne, Clive Owen, and Rihanna. More on the latest Valerian casting after the jump.
Besson announced Hawke's casting himself on Instagram.
Ethan Hawke will play in #Valerian! I want to work with for years! We gonna have fun!!!
A photo posted by @lucbesson on
Meanwhile, TheWrap broke the news about Goodman. He will be voicing a CG alien in the movie, but aside from that no details have been revealed about either actor's role.
Based on the long-running comic series Valérian and Laureline by Pierre Christin and Jean-Claude Mézières, Valerian and the City of a Thousand Planets stars DeHaan as the eponymous Valerian, an intrepid spatio-temporal agent for the Galaxity organization. Delevingne portrays his beautiful, sharp-witted partner Laureline. Owen will play a character named Commander Arün Filitt.
Visually, Valerian is described as "Star Wars meets Blade Runner meets Besson's The Fifth Element" — no big surprise, perhaps, considering that Mézières did design work on the latter. That fantastical look extends to its characters. Valerian and Laureline are part of a small handful of human characters, and they'll be surrounded by crazy-looking alien creatures.
Hawke is no stranger to sci-fi. Andrew Niccol's Gattaca remains one of his best known roles, and just this year he starred in the time-travel mystery Predestination. Recently seen in Boyhood, he has a big 2016 coming up, with The Magnificent Seven, Regression, Maggie's Plan, and Born to Be Blue all due out in the next several months.
Likewise, Goodman has plenty of experience with voice work. He'll be heard next year in the Ratchet and Clank movie, and his most famous past voice roles include Sully in Pixar's Monsters Inc. and Pascha in The Emperor's New Groove. He is currently shooting Kong: Skull Island, and can be seen in theaters right now in Love the Coopers.
Valerian and the City of a Thousand Planets is out July 21, 2017.