'Jane Got A Gun' Trailer: Ewan McGregor's Mustache Wants Jane Back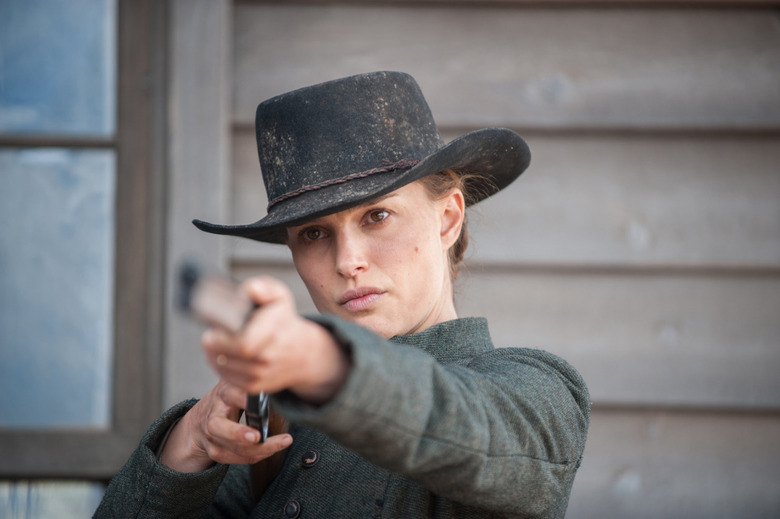 Jane Got a Gun did not have the smoothest of productions, to say the least. When Lynne Ramsay (We Need to Talk About Kevin) exited the film on the first day of principal photography, co-star Jude Law (Spy) left with her. A lawsuit followed Ramsay's sudden departure, and there was a whole lot of "he said, she said" going on. Ultimately, director Gavin O'Connor stepped in and possibly saved the day, reuniting with a frequent collaborator, Noah Emmerich (The Americans), and Joel Edgerton (The Gift) – the star of his last film, Warrior.
After the jump, check out the latest Jane Got a Gun trailer:
O'Connor's picture was scheduled to come out well over a year ago, but after Relativity filed for bankruptcy, a new distributor had to come in to release the film. The Weinstein Company picked up Jane Got a Gun, which is about the titular character (Natalie Portman) taking on a gang of outlaws with her former fiancé (Joel Edgerton).
Here's the Jane Got a Gun trailer:
This is a much better trailer than the one saw a few months ago. The editing is cleaner and the plot and relationships are more clearly defined, especially Jane's past with her adversary, played by Ewan McGregor (Trainspotting). McGregor's role was previously occupied by Jude Law, Michael Fassbender (Macbeth), and Bradley Cooper (Joy), so it must be quite a villain.
After everything that's happened with Jane Got a Gun, hopefully the film delivers the goods, and the quality of O'Connor's picture begins to drive the conversation, not the production problems. You always want to root for a film, but you especially want to root for a Western. We just don't see enough of them anymore, and a Western starring a cast of this caliber raises expectations. Will it be more than a shoot 'em western than the trailer sells it as? O'Connor has always been more interested in drama, so there's probably some conflicts and depth to the film this footage isn't selling.
Here's the official synopsis for Jane Got a Gun:
Jane Got a Gun centers on Jane Hammond (Natalie Portman), who has built a new life with her husband Bill "Ham" Hammond (Noah Emmerich) after being tormented by the ultra-violent Bishop Boys outlaw gang. She finds herself in the gang's cross-hairs once again when Ham stumbles home riddled with bullets after dueling with the Boys and their relentless mastermind Colin (Ewan McGregor).
With the vengeful crew hot on Ham's trail, Jane has nowhere to turn but to her former fiancé Dan Frost (Joel Edgerton) for help in defending her family against certain destruction. Haunted by old memories, Jane's past meets the present in a heart-stopping battle for survival.
Jane Got a Gun opens in theaters January 29th, 2016.