Netflix And Marvel's 'Iron Fist' Taps 'Dexter' Alum Scott Buck As Showrunner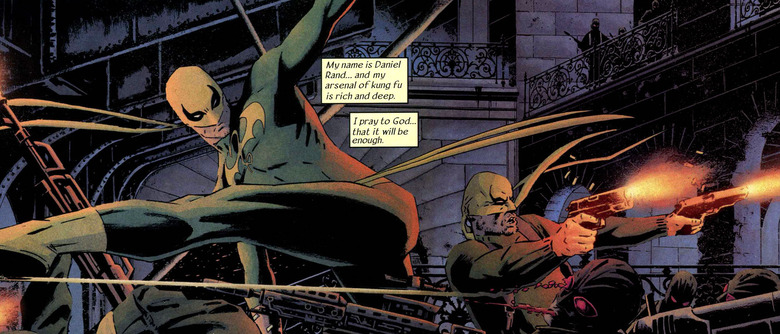 We met Daredevil on his eponymous series earlier this year, and Jessica Jones on her own series last month. Jessica Jones also included the first appearance of Luke Cage, who's now off prepping his own show to debut in 2016. But the fourth and final member of Netflix's Defenders, Iron Fist, has remained shrouded in mystery. So much so, that rumors cropped up claiming Netflix and Marvel were ditching the previously announced Iron Fist TV series altogether.
But that's not the case. In fact, Iron Fist has just taken one big step forward, hiring Dexter and Six Feet Under alum Scott Buck to serve as showrunner. More about the new Iron Fist showrunner after the jump. 
ComicBook.com and Heroic Hollywood jointly broke the Iron Fist showrunner news. Here's the logline they give for the new series:
Returning to New York City after being missing for years, Daniel Rand fights against the criminal element corrupting New York City with his incredible kung-fu mastery and ability to summon the awesome power of the fiery Iron Fist.
When exactly Iron Fist will hit Netflix isn't clear. It'll likely be another year or so before Season 1 is ready, so we're probably looking at late 2016 or 2017. But with a showrunner now on board, we're hopeful the other pieces will fall into place soon. It should be particularly interesting to see who gets tapped as the lead, given that some vocal fans have called for Marvel to cast an Asian-American actor in the role.
Iron Fist will be Netflix's fourth Marvel Cinematic Universe series, after Daredevil, Jessica Jones, and Luke Cage, and the last one to premiere before the planned The Defenders crossover miniseries. Next year brings the second season of Daredevil, and possibly another season of Jessica Jones given the success of Season 1. Luke Cage has not yet announced a release date, though it's expected to land sometime in 2016 as well.
Buck took over as the showrunner of Dexter starting in Season 6. (Jessica Jones showrunner Melissa Rosenberg is also a Dexter alum.) Prior to Dexter, Buck served as a producer on Six Feet Under for most of its run. His other writing credits include Rome, Everybody Loves Raymond, The Oblongs, and Coach.
Iron Fist, also known as Danny Rand, is a master martial artist who can harness his chi (spiritual energy) to enhance his physical and mental abilities. He can concentrate his abilities into an "iron fist" that can strike with superhuman impact. He can also use his chi energy to heal himself and others, or telepathically fuse his consciousness with others'. He's more fantastical than the Defenders introduced so far, with a backstory that involves a mystical city founded by aliens, but we'll have to wait and see how Buck and his team at Netflix handle the character's more supernatural elements.