First 'Game Of Thrones' Season 6 Footage Features Dany, Cersei, And More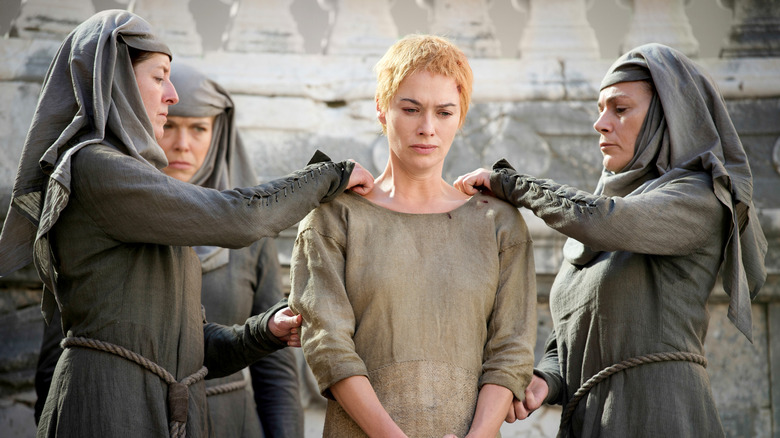 The very first Game of Thrones Season 6 teaser premiered last week, but as exciting as it was, it didn't contain any actual new footage from Season 6. For that, we have to turn to HBO's end-of-year trailer, which looks back at the year that was and ahead at the year that's coming.
Game of Thrones is just one of many shows and movies highlighted in the video, so don't expect a full, meaty trailer. But at this point, we'll take what we can get. The new Game of Thrones Season 6 footage features characters both beloved and reviled, but a certain Lord Snow remains in hiding. Watch it after the jump. 
HBO premiered its year-end trailer on Twitter. The video is basically just HBO patting itself on the back for a fantastic year (and deservedly so, seeing as it won a network-record 43 Emmys this year) and trying to get TV audiences psyched for 2016. It teases shows returning (Silicon Valley, Veep, Girls) and new (Vinyl, Westworld, High Maintenance), as well as upcoming movies (All the Way, Confirmation). But we know you're really here for the Game of Thrones Season 6 footage, so go ahead and skip to the 2:16 mark if you like.
2015 has been magical.
Here's what's coming to @HBO in 2016.https://t.co/FzdLPuDgYW

— HBO (@HBO) December 7, 2015
The new Game of Thrones footage really amounts to just a couple of seconds. We see Daenerys looking tired and unkempt, Ramsay riding with the Bolton banner behind him, and Cersei giving Tommen a hug. There's no sign of Jon Snow, who was featured on the first poster — though we do get to see some old footage of him with Melisandre's voice remarking, "There's power in you. Do you feel it?" The prevailing fan theory is that Melisandre will bring Jon back via her Lord of Light magic, so the inclusion of that particular combination of dialogue and footage seems like a nod to the Jon Snow truthers.
Game of Thrones Season 6 premieres in April.