Watch Syfy's 'Expanse' Pilot: Space Sex, Space Pirates, And Space Detectives All In One Show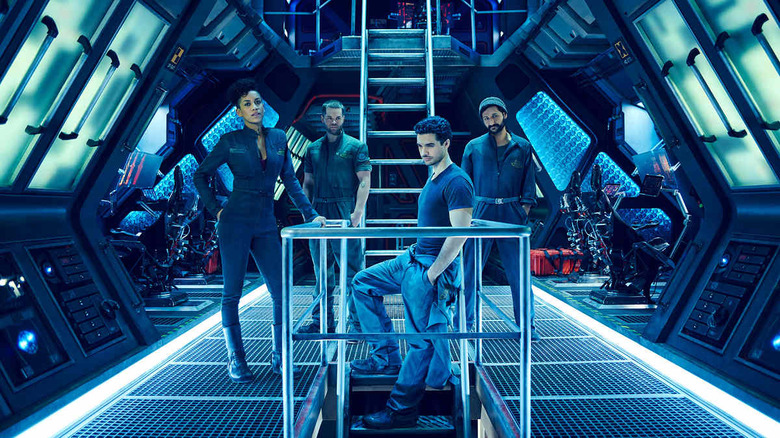 Ever wonder what'd it be like to have sex while floating in space? Me neither, but Syfy's new series, The Expanse, is here to show you. The TV series is still about two weeks away from premiering, but you can already get your first look at the series.
Watch the Expanse pilot after the jump.
The Expanse is an adaptation of the sci-fi novels from James S.A. Corey, a pen name of authors Daniel Abraham and Ty Franck. In the Syfy series, Earth, Mars, and "the Belt," which has desirable resources (air and water), are on the edge of war. The show also involves a missing girl, which is what makes hardened detective Joe Miller (Thomas Jane) team up with a space captain. Starring with him is the always reliable Jared Harris (Mad Men) – one of those actors that's almost always good, no matter the quality of the film he's in.
I'm not sure if there's any space sex in the pilot, but feel free to spend the next 40 minutes or so trying to see if there is any, because Syfy has released the first episode online over two weeks before the show's premiere.
Here's the Expanse pilot:
Screenwriter Mark Fergus (Children of Men, First Snow) is a writer on the show, so that inspires some confidence. From what I've seen of Expanse, the production value is a few notches above what we generally see on network TV. This doesn't look like a show that was made for a few dimes. Jared Harris and Thomas Jane's involvement also makes Expanse stand out a bit from the herd.
Here's the official synopsis for Expanse:
Hundreds of years in the future, humans have colonized the solar system. The U.N. controls Earth. Mars is an independent military power. The planets rely on the resources of the Asteroid Belt, where air and water are more precious than gold. For decades, tensions have been rising between these three places. Earth, Mars and the Belt are now on the brink of war. And all it will take is a single spark.
It is within this future that The Expanse begins. The series follows the case of a missing young woman that brings a hardened detective and a rogue ship's captain together in a race across the solar system that will expose the greatest conspiracy in human history.
The Expanse premieres on Syfy on December 14th.