'Exposed' Trailer: Keanu Reeves Just Wants The Truth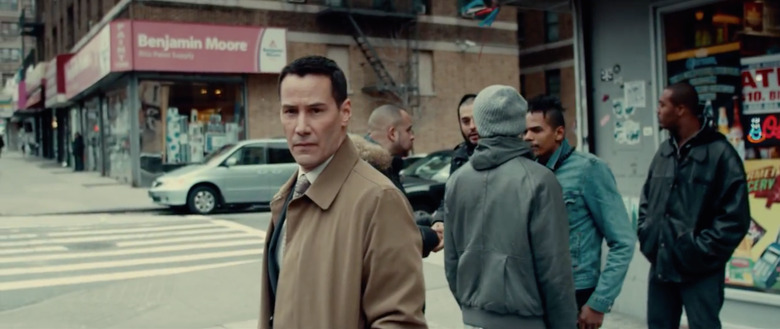 Keanu Reeves is a pesky detective that just won't stop digging, asking questions nobody wants the answers to. I wouldn't be surprised if we hear a line just like that in Reeves' latest film, Exposed, as the trailer has its fair share of clichéd dialogue. But the familiar film does star Reeves, Ana de Armas (Knock Knock), and Christopher McDonald (The Iron Giant), a trio of actors I'd happily watch in the same movie.
After the jump, watch the Exposed trailer.
Exposed, originally titled Daughter of God, is directed by Gee Malik Linton, a former physical trainer. Linton worked with Tobey Maguire on Spider-Man and Anne Hathaway on The Dark Knight Rises, but he's also directed a few short films in his career. Going from personal trailer to directing a film starring Keanu Reeves is quite a jump, and not a transition we see everyday.
Here's the trailer for Linton's feature directorial debut:
The international trailer was part procedural and part supernatural, and we see hardly any of the latter in this trailer. De Armas' character begins to experience visions or ghosts, but they decided to exclude that from this footage, sticking with the tropes we all know, such as: "I don't want my Joe's name tarnished, okay? You owe him that much." There's some stiff dialogue in the trailer, but some of the actors in Exposed are the kind of performers capable enough to elevate what's on the page.
As I noted in the international trailer post, Reeves and de Armas's presence is why I plan on remaining hopeful for Linton's film:
Reeves' involvement makes Exposed more promising [than it looks]. Following his awesome directorial debut, Man of Tai Chi, and John Wick, he's been joining some exciting projects. In the next year we'll see him in Nicolas Winding Refn's Neon Demon and Ana Lily Amirpour's follow-up to A Girl Walks Home Alone at Night, The Bad Batch. Knock Knock was a recent, minor misstep for the actor, but he was fun in the role. In Exposed, he reunites with his co-star from the Eli Roth film, Ana de Armas. De Armas was arguably the highlight of Knock Knock, and after her energetic performance in Roth's movie, I'm looking forward to seeing her give a more reserved, dramatic performance in Exposed.
Here's the official synopsis:
When a detective starts to investigate his partner's shocking death, he uncovers disturbing evidence of police corruption and a dangerous secret involving an unlikely young woman.
Exposed opens in theaters and on iTunes on January 22nd.