Watch The 'Family Matters' Cast Reunite In Lifetime's 'Flight Before Christmas'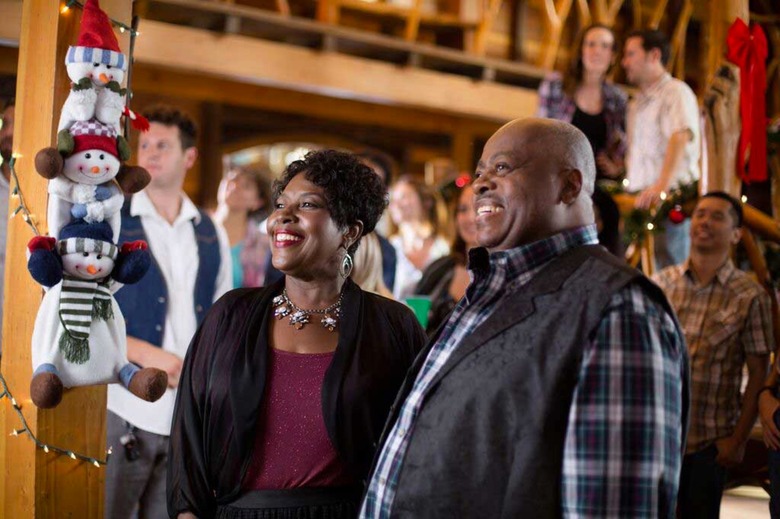 We will probably never get a Family Matters reunion, although if the Full House sequel/spin-off tv series Fuller House does big numbers, you never know. So for now, the closest thing we'll get to a Family Matters reunion is the Lifetime television movie Flight Before Christmas that premieres this weekend.
The made-for-tv movie features Reginald VelJohnson (best known as  Carl Winslow on Family Matters or Sgt. Al Powell in the early Die Hard films) and his former television wife Jo Marie Payton (who played Harriette Winslow). As you may have guessed from the title of the movie, the story follows a woman (played by Mayim Bialik of The Big Bang Theory an) who gets dumped by her boyfriend right before the holidays and meets a guy (Ryan McPartlin of Chuck) on a flight home for Christmas. Watch the Flight Before Christmas trailer now embedded after the jump.
Flight Before Christmas Trailer
Here is the official plot description for Flight Before Christmas:
Excited to take the next step in their relationship and move in with her boyfriend, Stephanie is crushed when he drops the bombshell that he wants to break up. Faced with spending the holidays heartbroken and homeless, she decides to fly home to Connecticut. On a red-eye the day before Christmas, Stephanie finds herself seated next to Michael, who is planning to propose to his college girlfriend. The two get off to a rocky start but things get even worse when the pilot announces that a huge, unexpected snowstorm is crossing the country. Their flight is diverted to a small town in Montana where Stephanie snags the last available room at the town's bed and breakfast. Despite their differences, she offers to share the room with Michael and try their best to get along.
Flight Before Christmas will make its World Premiere on December 5th 2015 at 8/7c on Lifetime Television.