LOL: 'Sisters' Takes A Page Out Of The 'Star Wars' Playbook With 'The Farce Awakens' Featurette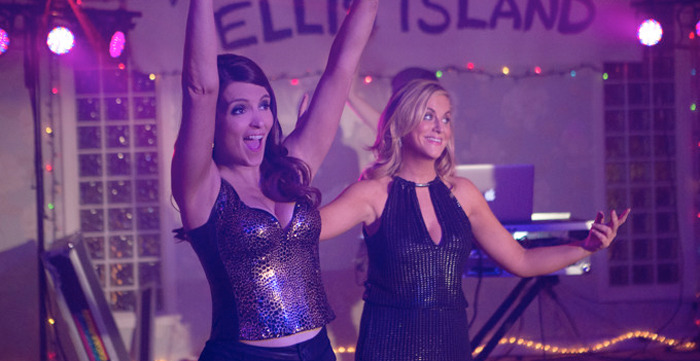 Most of the big studio releases have run like hell from Star Wars: The Force Awakens, and with good reason: even the most conservative estimates have the film not just breaking, but shattering box office records. But through it all, Tina Fey and Amy Poehler's Sisters has stood firm. "We said we'd only do the movie if it opened against Star Wars," Poehler joked last year. "We're not scared. It's what gets us up in the morning: We are going to f—ing crush Star Wars."
Of course, the truth is that Sisters doesn't stand a snowball's chance in hell of beating Star Wars at the box office. So now Fey and Poehler's film is adopting the "if you can't beat 'em, join 'em" strategy. Instead of trying to convince audiences to pick Sisters over Star Wars, they're helpfully reminding audiences that "#YouCanSeeThemBoth." And that they're really not so different. Sisters even has a making-of featurette, just like Star Wars, that trumpets the film's rich history, practical effects, and legendary cast and crew, including director "J.J...ason Moore." Watch the Sisters featurette after the jump. 
The Sisters featurette is a pitch-perfect send-up of the fawning making-of videos released by Disney to promote Star Wars: The Force Awakens. It punctures the pageantry surrounding films like Star Wars: The Force Awakens without being too mean-spirited about it. And it's a great reminder that Fey and Poehler are really delightful together. Has it convinced us to watch Sisters instead of Star Wars? Don't be insane. But it may just do the trick of getting a few people to try and catch both.
Sisters, just like Star Wars: The Force Awakens, arrives December 18.
Tina Fey and Amy Poehler reunite for SISTERS, a new film from Pitch Perfect director Jason Moore about two disconnected sisters summoned home to clean out their childhood bedroom before their parents sell the family house. Looking to recapture their glory days, they throw one final high-school-style party for their classmates, which turns into the cathartic rager that a bunch of ground-down adults really need. Fey produces the comedy alongside Jay Roach (Meet the Parents series), and Poehler executive produces from a script by Paula Pell (TV's Saturday Night Live, 30 Rock). Golden Globes.