'Mojave' Trailer: Oscar Isaac Is Not A Garrett Hedlund Fan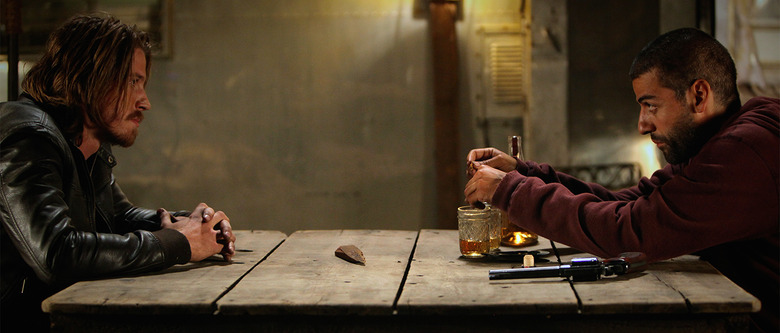 We all know Oscar Isaac has the biggest film of his career coming up later this month in Star Wars: The Force Awakens. But Isaac's also got another, much smaller movie due for release in the coming weeks. Directed by William Monahan (The Departed), Mojave pits a devilish drifter played by Isaac against a depressed movie star played by Garrett Hedlund. Thrills, chills, and a whole lot of overwrought dialogue follow. Watch the first Mojave trailer after the jump. 
A24 premiered the first Mojave trailer on ET.
Isaac is the kind of actor who makes great movies greater and bad movies more tolerable, and Mojave definitely makes use of his effortless charisma. It's almost hard not to feel sorry for Hedlund, whose character is much more subdued by design — it must be difficult to keep Isaac from just running off with every scene he's given.
Unfortunately, Mojave doesn't have a lot else going for it. I caught the film at Tribeca, and, well, here's an excerpt from my review:
As a whole, however, Mojave is a mess. Betraying Monahan's worst instincts as a screenwriter, it manages to be both overwritten and underwritten. Characters spew baroque soliloquies for the sole purpose (it seems) of giving Monahan an excuse to write them, but they all wind up sounding the same. Much time is spent agonizing over Tom's predicament, before we're given any reason to care about his fate. And through it all Mojave seems extraordinarily pleased with itself, as if having read Hamlet was a rare accomplishment instead of a standard 10th grade rite of passage.
Your mileage may vary, depending on your tolerance for long monologues, Shakespeare references, and poor little rich boys. But for all its flaws, Mojave is exactly the kind of film — small, weird, and personal — that I hope Isaac never stops making, no matter how many Star Wars and X-Men scripts get thrown his way. A24 has Mojave out on DirecTV December 3 and in theaters January 6, 2016.
Mojave is a classical, cerebral thriller about a brilliant, near-suicidal artist, Thomas (Garrett Hedlund), who attempts to escape his privileged existence into the desert only to encounter a homicidal, chameleon-like drifter—Jack (Oscar Isaac). Their first encounter at a campfire sets up a nonstop, violent duel of physical and intellectual equals. The game intensifies when Jack, while in murderous pursuit of Thomas, witnesses Thomas' accidental killing of an innocent man he has mistaken for Jack. The chase moves from the spectacular vistas of the American desert to a noir Los Angeles, where Jack discovers Thomas' notoriety as an artist and continues to remake his own identity in relentless pursuit of his victim, culminating in a vortex of criminality and brutality as Thomas emerges as an equally dangerous opponent.